Don't Skimp On Protection: Why You Shouldn't Overlook Mouthguards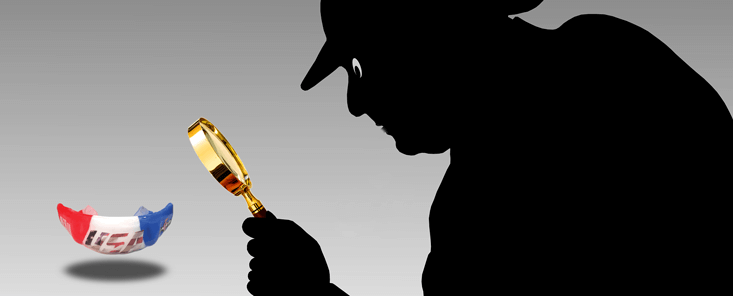 When it comes to purchasing athletic equipment, you want to spend your money wisely, especially when you have multiple pieces of gear you need to buy. But there is one area you certainly shouldn't skimp on: facial protection.
So what's the difference between a $7 mouthguard and one that costs $50? Quite a bit, actually. But it's not yourself you will hurt by going cheap, it's your athletes! Here are three reasons why you can't afford to overlook mouthguards:
1. Don't Cost Your Athletes Money
Broken bones heal. Ligaments are repairable. A broken tooth is a lifelong injury that does not heal.
With lifelong maintenance, appointments and surgeries, a broken or damaged tooth has a lifetime cost of approximately $20,000. That's just to replace one tooth! And because athletes have a 33-56% chance of receiving an orofacial injury — an injury to the mouth or face — during their playing career, it's important to make sure that you don't allow your players to forgo protection.
Save them a lifetime of costs and pain.
2. Don't Cost Your Team The Game
In most leagues, at most levels, mouthguards are required by rules. That means that your team may be penalized if your players aren't wearing their mouthguard; or even if it falls out during play.
Those penalties may be costly and you don't want to sacrifice a potential win due to an equipment malfunction. Keep your athletes in the game and out of foul trouble.
Make sure that they not only have a mouthguard before the game starts, but one that fits properly and securely without clenching or biting.
3. Don't Cost Your Players Their Top Performance
When it comes to proper fit and protection, just any old mouthguard won't do. Your players need the right mouthguard.
And that's why your players need custom mouthguards.
Only custom mouthguards ensure the tightest fit possible while providing the most comfort. That's because custom mouthguards are made to the exact mouth structure of each individual athlete and hand crafted to make sure protection is only where it is needed, eliminating any extra bulk.
And because each custom mouthguard is engineered and cut to every athlete's unique mouth, your players are able to communicate clearly and breathe optimally, giving them all the tools to reach their maximum potential.
When it comes to athletic equipment, don't overlook mouthguards. Give your athletes proper protection, comfort and performance. Give your athletes a Gladiator. Learn more about the benefits of Gladiator custom mouthguards at the link below.