Comfort Or Protection? Get Yourself A Mouthguard That Can Do Both!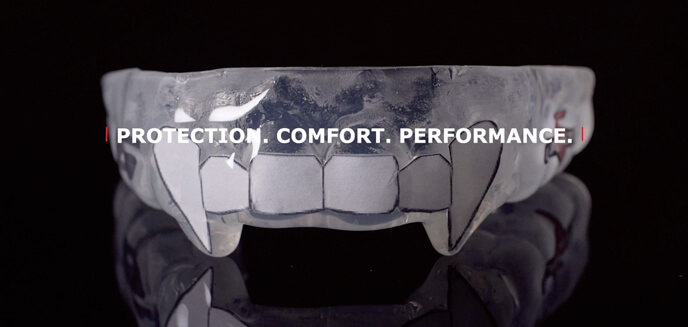 In order to get the most out of your mouthguard, there are two main functions it needs to have: proper protection and optimal comfort.

However — when it comes to most mouthguards — that is far from the case. With most mouthguards, one of those functions typically detracts from the other. Some claim to offer superior protection and do so by being big, thick and bulky, while others claiming to be super comfortable usually thin out their guard as much as possible.
Whether it's too much material where it isn't needed, or compromised protection due to too little material to absorb impact, most mouthguards seem to leave something on the table.
That is, of course, unless they have the proper fit for your unique individual mouth structure.
So, why is the fit the key to a perfect mouthguard? Simple:
Protection
Does adding bulk to a mouthguard provide protection? Sure, but again, it offers little comfort. And without the proper fit, that extra bulk doesn't actually provide that much additional protection.
Similarly, a thin mouthguard is more comfortable, but if it moves freely around your mouth because of a poor fit, than it likely isn't going to be in place when you take a hit to the mouth or jaw.
For a mouthguard to be in the exact place when impact occurs, your mouthguard must fit securely on your upper teeth, without biting or clenching. That means you should physically have to pull your mouthguard out of your mouth to move it.
Comfort
Because a proper fitting mouthguard fits so securely against your teeth, your comfort increases in two ways:
Your mouthguard fits so well that you forget it is even there
Your mouthguard is thinner in the areas that matter
Your mouthguard should fit tightly, as if it's a part of you; it shouldn't feel like that annoying tag in the back of your shirt. You need to focus on the task at hand on the field, court, pitch or ice, and be able to communicate, breathe and hydrate clearly during a game. Only an intimate fitting mouthguard gives you the ability to do those things uninhibited.
And while most mouthguards need extra bulk to hold in place, a mouthguard that has a perfect fit is made with as little bulk as possible. That's because a mouthguard designed for your specific mouth maintains thickness only in areas for protection.
Most mouthguards offer protection or comfort, but not both. Only a custom mouthguard has the perfect fit to give you both.
While most mouthguards provide protection or comfort, only one offers the best of both worlds. Get yourself a mouthguard that can do both. Learn more about Gladiator Custom Mouthguards at the link below.