User's Guide To Making Your New Mouthguard As Comfortable As Possible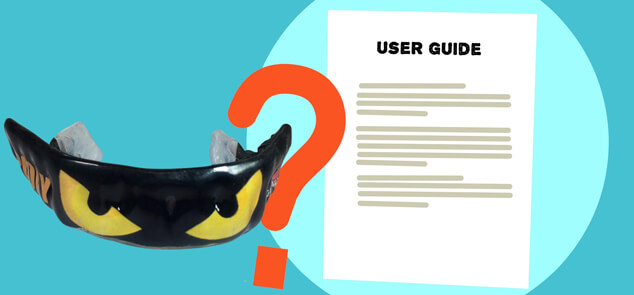 You've received your new boil-and-bite or custom mouthguard, but it's uncomfortable. Now what?
Depending on the type of mouthguard and/or the specific issue, you may be able to make minor adjustments or fixes at home. Other problems may require you to send your guard back to the manufacturer. So how do you know which is which?
Here's a quick user's guide to making your new mouthguard as comfortable as possible:
Too Tight
If your new mouthguard is too tight there is good news! This is a quick and fixable issue, whether your guard is a boil-and-bite or a custom mouthguard.
For boil-and-bites, simply try the fitting process again, but focus on not pushing or sucking quite as hard. A custom mouthguard is also created using pressure and heat, so the same can help with minor problems like tightness. To help loosen the fit:
Heat a pot of water until boiling
Hold your custom mouthguard over the boiling water for approximately 10 seconds — DO NOT submerge your mouthguard, simply expose the area causing discomfort to the steam heat above the water
Remove the guard from the heat and immediately place in your mouth
Keep the mouthguard in your mouth for 20 seconds or until it cools, constantly applying pressure
Too Loose
If your new boil-and-bite mouthguard is too loose, there is a quick and simple fix. Try the fitting process over again, but focus on pushing and sucking harder this time. If you cannot get the desired fit from your boil-and-bite, a custom mouthguard may be the way to go.
Unfortunately, if your custom mouthguard is too loose, you will need to send it back to the manufacturer. While this isn't the desired outcome, it is the best way to fix the problem. Custom mouthguards are made using 120 pounds per square inch of pressure to achieve a tight, imitate fit. The human mouth simply can't replicate that amount of pressure, as it only produces approximately 7 pounds per square inch. While this is longer than a quick in-home fix, it should be a simple fix for your custom mouthguard provider.
Too Rough (Or Rubbing)
Is your new mouthguard rubbing against your gums or have other rough spots? Don't worry, there's a simple at-home method for both boil-and-bites and custom mouthguards:
Use a smooth metal surface (a spoon works best)
Heat the metal and apply a small amount of cooking oil or other edible lubricant
Using the heated and lubricated metal surface, gently smooth out the rough area
The heated metal helps to shape or smooth the mouthguard, while the lubricant ensures that the metal surface doesn't stick to the guard or pull the material away, making the area worse.
Too Thick
When it comes to thickness, it may depend on the style of guard you purchased and if it's sport-specific or not. The way mouthguards are engineered and cut matters a lot. You don't want one uniform thickness around the entire mouthguard. That puts material in places it doesn't need to be, making the mouthguard uncomfortable and unnecessarily bulky.
While boil-and-bite mouthguards may come in different styles for different sports, they typically have one uniform thickness. Custom mouthguards are built in specific styles for specific sports and needs, so your mouthguard is thicker where you need it to be, and thinner where you don't.
Too Long (Or High)
If your boil-and-bite mouthguard is too long or too high, you can use any sharp pair of scissors to trim down your guard. Custom mouthguards require a more delicate process for minor adjustments:
Warm a small utility knife
Using the warmed knife, carefully shave off the area around the spot irritating your mouth
Be careful not to puncture the mouthguard or cut the material
If a more extensive adjustment is needed, contact the manufacturer. They will be able to adjust height or length to your needs without hurting the protection or integrity of your mouthguard.
Whether your new mouthguard is too loose, too tight, too bulky or too rough, there are solutions for you to make your mouthguard as comfortable as possible. Do you have any other mouthguard problems that need solutions? Let us hear about them in the comments.