Tired Of Hearing 'Why'? Here Are 3 Reasons WHY Gladiator Can Help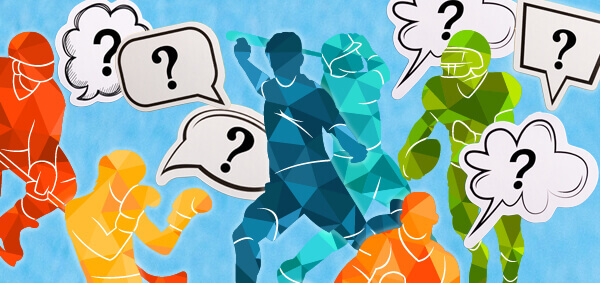 Why?
But, why?
WHY?!
If you're a parent, guardian, coach or athletic director of children, chances are you hear the question 'why' repeated endlessly.
Well, when it comes to important pieces of athletic gear like custom mouthguards, even adults want to know 'why?' If you're weighing the options of which mouthguard is right for you and your athletes, here are three 'why's you need to know:
WHY … are custom mouthguards different from boil-and-bites?
From cut and design – which a boil-and-bite has not been updated much since the 1960s — to form and function, the only real similarities between custom mouthguards and boil-and-bites is that they're worn in the mouth.
Not only do boil-and-bite mouthguards lack the levels of comfort and protection provided by a custom mouthguard, but athletes typically do not want to wear them because they are boring.
Your players will appreciate the value of a mouthguard with their name, number and team logo and colors on it much more than a solid block of orange or black. Much like their jerseys or cleats, your athletes will take care of their Gladiator and regard it as an essential piece of their game face.
WHY … will your athletes wear custom mouthguards?
In addition to looking cool, Gladiator custom mouthguards are also the most comfortable mouthguard available – while providing the most protection!
Gladiator's patented cut design allows custom mouthguards to be low profile and as thin as possible, with no material in any area that doesn't require protection. The impression process used is precise, which allows the guard to fit snugly and stay in place without biting or clenching. That guarantees the mouthguard is where it needs to be if they are hit in the face or jaw.
It also means your athletes can breathe, communicate and hydrate without needing to remove their mouthguard.
Only a custom mouthguard can deliver this type of form fit.
WHY … choose Gladiator?
Sure, there are other custom mouthguards out there — but only Gladiator offers different options for athletes with different needs.
If your players tend to chew on their mouthguards, there is a material upgrade to help strengthen the guard and prevent wear and tear. If your athletes are especially sensitive gaggers, they can choose a thinner (but still highly protective) option. Athletes in combat sports like MMA may require extra protection from repeated blows to the face and mouth.
With multiple styles and upgrades for specific sports and personal preferences, a Gladiator is the only custom mouthguard to serve your whole roster.
Now that you know WHY you should get your players Gladiator custom mouthguards, it's time to show them. Find the Gladiator(s) that are right for you at the link below.