Don't Play Scared This Halloween. Play Protected.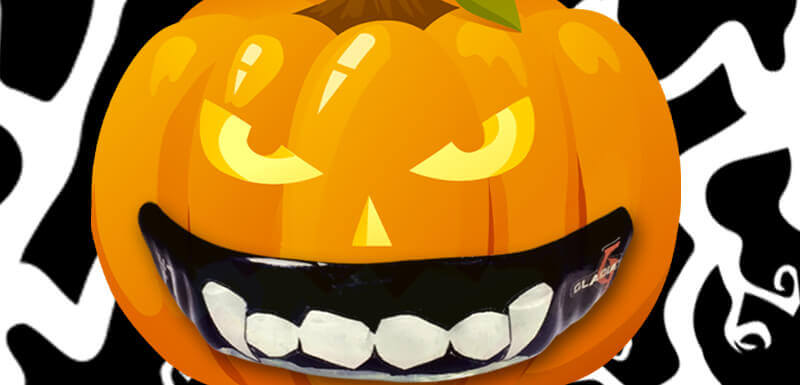 It may be spooky season, but that doesn't mean sports should be scary.
Of course, there is a lot to be afraid of, especially when it comes to your fangs.
Regardless of what sport you play, injuries to the mouth and face happen. Direct impact from elbows, fists, pucks, sticks or any hard hit that slams your upper and lower jaw together, may have scary results:
Approximately 5 million teeth are knocked out annually during sports and recreational activities.
You have a 33-56% chance of receiving an orofacial injury — an injury to the mouth or face — during your playing career.
Broken bones heal. ACLs are repairable. A broken tooth lasts forever.
The lifetime cost to replace just one tooth — with maintenance, appointments and surgeries — is approximately $20,000.
While you may fear the ever-present dread of a potential injury, there are ways to help keep your mind and body parts at ease. Or at least your teeth and jawbone!
Only a custom mouthguard can protect you from the monster known as orofacial injury. That's why both the American Dental Association (ADA) and the Academy for Sports Dentistry (ASD) recommend a professionally made, properly fitted custom mouthguard for all contact and collision sports.
That's because custom mouthguards are designed to match the exact structure of each player's individual mouth — making for the most intimate and comfortable fitting mouthguard possible. That's the only way to ensure that your mouthguard is in place when contact occurs.
However, much like Halloween, there are a lot of ghosts, ghouls and fakers out there who mask themselves as the real thing. Any mouthguard that is fit through a boil-and-bite process is fooling you. A perfect fit can only be achieved using a direct dental impression to create the mouthguard.
A true custom mouthguard is engineered for each specific athlete, their specific needs and their specific sport. And to match each player's mouth, each mouthguard must be cut and formed differently from the next. That's why Gladiator custom mouthguards are always cut by hand.
With a patented cut design, Gladiator custom mouthguards are thicker in the impact zones — the areas in front of the teeth and under the molars — providing more protection where it's needed, while being thinner or having no material in areas where protection isn't needed — behind the back of the front teeth and the roof of the mouth.
That makes Gladiator the most protective and the most comfortable mouthguard available. Nothing scary about that!
It may be Halloween time, but sports shouldn't be scary. Remove the fear with the most protective and comfortable custom mouthguard available. Learn more at the link below.