No Matter Your Needs, There's A Lacrosse Mouthguard For You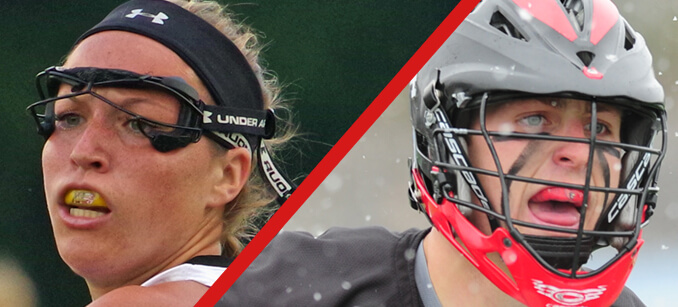 Purchasing a mouthguard for lacrosse can be a complicated task.

Aside from the number of options available, lacrosse is one of the only sports where an athlete's mouthguard needs are gender-specific. That's due to the differences between men's and women's lacrosse equipment and the use, or lack of, a full helmet and cage.
But buying a mouthguard should never be complicated; which is why we're here to help! When you're searching for the right mouthguard for lacrosse, there are a few things that you should consider:
No Facial Protection?
Let's start with women's lacrosse first. As we mentioned, the lack of a helmet or face cage makes a big difference when it comes to choosing the right mouthguard.
Without the benefit of full facial protection, it's important for women's lacrosse players to have proper protection across the front of their mouthguards. This helps to defend against sticks, balls or any other contact. Unfortunately that means a super thin option isn't going to be available, but with special materials — like our High Performance Gladiator — you're able to get the most comfortable and protective mouthguard possible.
In fact, every athlete in the Women's Professional Lacrosse League (WPLL) is fully protected by our premier Gladiator Pro style custom mouthguard.
Location Of Impact
For men's lacrosse, the worry of frontal impact is minimal since players wear a helmet with a full cage.
However, with legal body contact, protection against upper and lower jaw collisions is essential. These types of collisions lead to multiple injuries, including broken teeth, a broken jaw and concussions.
Where a women's lacrosse player needs more protection across the front of her guard, her male counterparts need proper protection against the upper and lower jaw collisions. That allows their mouthguard to have a thinner frontal profile, like our Gladiator HP Lite, but feature additional protection under the molar surface.
It's All In The Cut
Whether you play men's or women's lacrosse, here's the great news: with a patented cut design that eliminates bulk and any unnecessary material — our special X-treme cut — a Gladiator custom mouthguard gives you the thinnest, most comfortable mouthguard possible while also providing the best protection.
That X-treme cut is extra important for team sports too. By removing all unnecessary material from the free flow space, a Gladiator allows athletes to breathe and communicate clearly on the field during game action.
And that is paramount in a sport like lacrosse.
Searching for the right lacrosse mouthguard, but finding the process complicated? Whether you need a mouthguard for men's or women's lacrosse, Gladiator has the custom mouthguard that's right for you. Learn more about your specific mouthguard needs at the link below.