Mouthguard Buyer's Guide: How To Choose The Mouthguard That's Right For You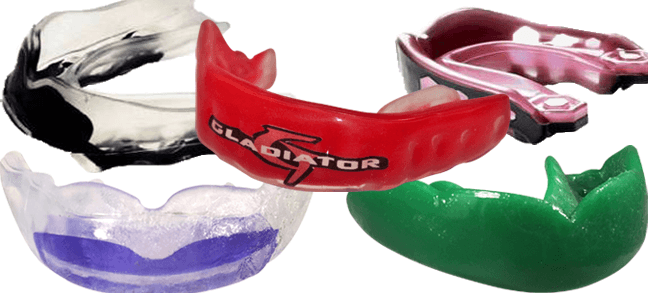 When it comes to purchasing a mouthguard, there are many different options — from types and styles to the design, material and special features.
For a small piece of equipment, mouthguard choices have become very complicated. But that's simply because mouthguards are an essential component of player protection. While the options and choices may seem overwhelming, we're here to help.
Here are the four most important things you must focus on when buying a mouthguard:
1. Comfort vs. Protection
What do you think is most important: being protected by a mouthguard or being comfortable wearing a mouthguard?
It's actually a trick question, because the answer is both! Yet, while custom mouthguards provide the best of both worlds, the level of protection and comfort may still vary based on personal preference.
Take boxing and MMA, for example: if an athlete is less confident in their abilities — and assumes they're going to get punched in the face often — they may prefer a thicker, heavier mouthguard option. A more confident fighter may be more concerned with comfort, so a thinner, more streamlined option that still provides proper protection may make more sense.
Whether you're buying for yourself or your athlete, personal preference matters.
2. Sport Specific
You may not realize it, but the mouthguard you purchase actually depends on the sport you or your athletes play. Each sport demands a different level of protection, and some sports and leagues even have specific mouthguard rules and requirements, as not all allow certain colors and logos to be displayed.
Oftentimes, the proper mouthguard for your sport simply comes down to one question: do you wear a facial shield?
For sports where full facial protection is worn — like ice hockey, football or men's lacrosse — you want a mouthguard with a thinner frontal profile with added protection against upper and lower jaw collisions, due to the body contact in the sport. Athletes in non-contact sports like soccer and basketball actually need more protection. Because the face is bare in these sports, you want a mouthguard that features more protection in the front, protecting against heads and elbows.
3. Personalization
Do you or your athlete prefer to show off the team colors and logo? How about flashing a little personality with a cool design? Or maybe you like to keep it simple with just your name and number?
Complete customization gives you the ability to display your identity through your mouthguard. Go as big as you want, with full color, logo, name AND number … Or keep it minimalist and business-like with a simple clear mouthguard.
The level of personalization is entirely up to you and your personal preferences.
4. Braces
Braces are one of the most important factors when it comes to buying a mouthguard.
Not only are braces a large investment, they are easily damaged and easily irritated. That makes protecting them highly important, and also means the protection must not interfere with the brackets and wires.
Only a custom mouthguard engineered to you or your athlete's specific mouth structure prevents interference and irritation. That's because custom mouthguards are designed with a special channel to fit over brackets and wires without inhibiting orthodontic treatment or alignment.
When it comes to purchasing a mouthguard, it's important to focus on the key factors — from comfort and protection, to sport specific cuts and personalization — and to choose your options based on your personal preference. Still unsure about which mouthguard you need? Find your perfect mouthguard at the link below.