How Do Coaches And Athletic Trainers Benefit From Custom Mouthguards?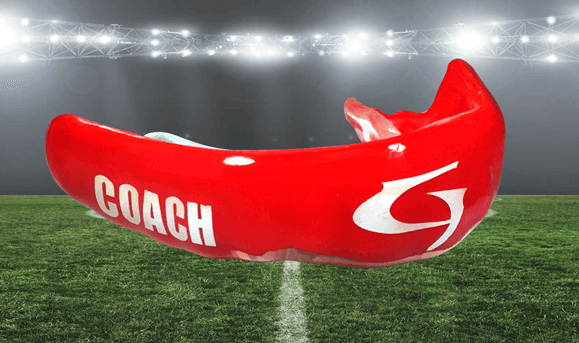 When it comes to mouthguards, there's no doubt that a properly fitting, custom mouthguard benefits your athletes. But did you know that those custom mouthguards provide you and your team advantages too?
It's true! Here are four ways you benefit from giving your players custom mouthguards:
1. Less Injuries, More Availability
In sports, the best ability is availability. That means you need your players to be healthy and contributing on the field, court, pitch or ice.
So how do you ensure your athletes remain healthy? By giving them the best protection possible, of course! Everyone's mouth is different, so making sure each athlete has a mouthguard that is custom made to fit their exact mouth structure is a great way to help protect your players from orofacial injuries — damage to the mouth or face — and keep them in the lineup.
2. Clutch Communication
As you know, communication is a key to success. But generic mouthguards don't speak the right language.
Important functions like speaking, breathing and drinking water are severely inhibited by the bulkiness of a stock or boil-and-bite mouthguards, which makes it hard for your players to perform at their peak abilities.
With a custom mouthguard though, your players won't just speak, breathe and drink with ease, but actually play better, as the optimal oxygen flow enhances performance.
3. Fewer Frustrating Penalties
Not only are mouthguards a mandatory piece of equipment, but officials are enforcing penalties on teams and players for not wearing them properly. Is a two-minute penalty, a 10-yard infraction, or even a player ejection really worth it for failing to have a mandatory piece of equipment?
A penalty for a mouthguard being out is frustrating and unnecessary. Because custom mouthguards are made to fit the individual mouth structure of each athlete, they are the most comfortable mouthguard possible. There's no need for players to take them out of their mouths, which means fewer penalties for your team.
4. The End of "Lost" Gear
Players tend to "forget" or "lose" their generic mouthguards on purpose because they are typically ugly, uncomfortable and ineffective. They don't value those mouthguards, they're simply forced to have them. But what would happen if your players actually loved their mouthguards? Have you ever seen a player "lose" their jersey or team jacket?
With a completely personalized mouthguard — from color and logo to name and number — your athletes don't just get a piece of equipment they're forced to wear, but a new piece of team gear they value as much as their jersey.
And a custom mouthguard with a player's name, number and team logo instantly becomes a favorite piece of their uniform and an essential component of completing their game face.
From fewer injuries and penalties, to better team performance and communication, there are many ways you benefit from giving your players custom mouthguards. What are some other reasons you should go custom? Check the link below for more information.