Braces Are Uncomfortable. Mouthguards For Braces Don't Have To Be.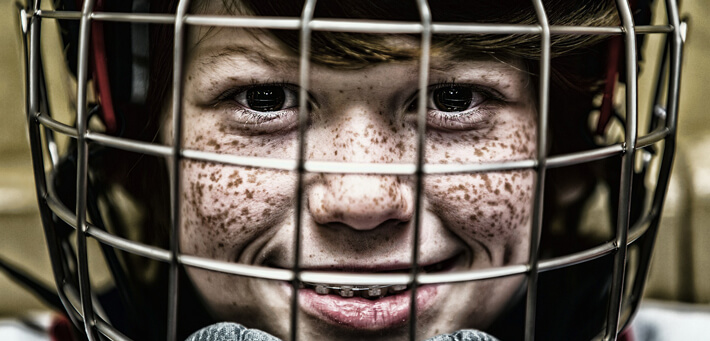 If you ever had to wear braces, you likely know how uncomfortable they are. If you ever had to wear braces and play sports, you definitely know how uncomfortable they are.
When it comes to your athletes with braces, adding a mouthguard to the mix — while a definite necessity — is a recipe for discomfort. That mouthguard must be able to protect your player's mouth and jaw, while also protecting their braces and providing them room to do their job — shift and adjust the teeth into place.
That means you can't simply rely on any old mouthguard to protect your athletes and their expensive long-term investment.
Many generic boil-and-bite mouthguards for braces are extra bulky to make room for brackets and wires. That is highly uncomfortable and leads to athletes disliking and/or forgoing their mouthguards entirely — which kind of defeats the purpose of having a mouthguard.
That extra bulkiness also makes it extremely difficult to breathe and speak, and because of the poor fit, doesn't provide proper protection. Mouthguards should never come loose and float around the mouth; they must fit snuggly and stay in place during any impact so that they don't become dislodged.
Only a custom mouthguard is able to give your players the exact fit they need for their mouths and braces. With a mouthguard engineered to their specific, individual mouth structure, your athlete's mouthguard has a tight enough fit to firmly stay on the upper teeth without being held in place with the lower jaw. That means without any biting or clenching.
Gladiator custom mouthguards are designed with a channel to fit over the brackets and wires without inhibiting orthodontic treatment or alignment. Not only does that remove all of the unnecessary material that makes generic mouthguards so bulky, but that patented design also makes them comfortable to wear.
That means your players' mouthguards won't interfere or irritate their braces, and they'll be properly protected when they need it most.
Braces are already uncomfortable. Don't make your players suffer with a poorly fitting mouthguard for braces. Only a custom mouthguard with Gladiator's patented Ortho-Channel provides the protection and comfort they need. Get the best braces comfort at the link below.