3 Ways To Optimize Your Fantasy Team And Draft The Top Mouthguard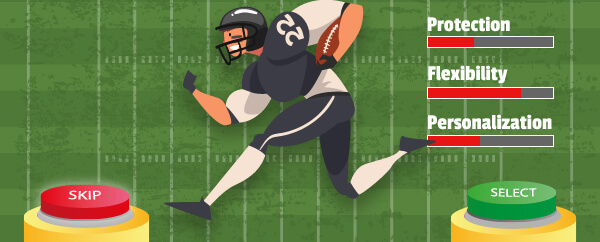 Fantasy football season is already in gear, and if you play, it is probably consuming your days and nights. If only you could go back in time a few weeks and draft player X instead of player Y!
Well, we can't reverse time, but we can help you prepare better for your next fantasy draft. What are the three most important things to consider when drafting your fantasy team? And how do those factors also relate to choosing a mouthguard?
Here are 3 ways you can optimize your fantasy team and draft your new favorite mouthguard:
1. Protection
Injuries happen; they are a part of the game. It's important to make sure that you cover your bases and plan for the worst-case scenario in real life, just like in fantasy sports.
If you draft a stud running back with the first pick, it's a smart strategy to also draft his back-up — also known as "handcuffing." That way, if your star gets injured, you have a starting RB ready to plug and play.
Well, if you purchase a mouthguard, it's a smart strategy to get one that is specifically engineered for your sport and individual needs — as well as one that stays snuggly on your upper teeth without having to bite or clench to keep it in place. That way, when a hit or collision occurs to your face, mouth or jaw, you have the proper protection to keep you safe.
2. Flexibility
In addition to protecting yourself, it's also extremely imperative to remain flexible.
You should always have a plan and idea of what you want to come away with when you enter a fantasy draft, but don't be so rigid and let the draft come to you. Remember, you can't predict what the other people drafting will do, so make sure you can easily pivot if you need to.
You should always have a plan and idea of what you want to come away with when you purchase a mouthguard, but don't be so rigid and get a mouthguard that gives you the flexibility to order specific styles for specific sports or try different upgrades to find the best guard for you. Remember, you can order any mouthguard style you choose at a discounted price — for life! — after making your initial impression with Gladiator.
3. Personalization
You're going to spend a lot of time thinking about — and typically agonizing about — your fantasy team so it's a good idea to draft the team that you want.
While you've likely read countless articles and watched all of the fantasy "experts" give their advice, fantasy sports are a crapshoot. No one has a crystal ball; anything can happen. Draft the players that you want to watch and root for.
Similarly, your mouthguard should reflect you. With your choice of 18 solid color options, the logo of your choosing and your personal ID, you can truly put your mark on your one-of-a-kind mouthguard.
Whether you're choosing your fantasy team or your mouthguard, it's important to be flexible, prepared and yourself. See how Gladiator custom mouthguards can help you achieve all three at the link below.