3 Ways To Give Thanks With A Custom Mouthguard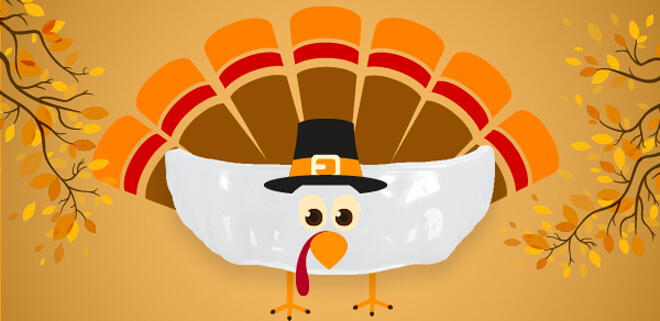 November is the month of showing thanks. That makes it the perfect time of year to thank your athletes and demonstrate your appreciation.
What's the best way of showing your gratitude? Is there something functional that they can use during competition, but also meaningful that they'll cherish it?
You've come to the right place! Here are three reasons why a custom mouthguard is the best way to say thank you:
1. Cut To Perfection
One of the main complaints that athletes have about mouthguards is that they're uncomfortable, and oftentimes, make them gag. That's because no two mouths are created equally.
Gagging is typically caused by mouthguards that have too much material, especially where it doesn't need to be. This makes they fit poorly and float around the mouth.
Mouthguards need to be cut properly — like a Thanksgiving turkey. When a mouthguard is as thin as possible, with no material in any area that doesn't require protection, it's as comfortable as possible. It also means your athletes can breathe, communicate and hydrate without needing to remove their mouthguard.
Only a custom mouthguard is engineered for such an intimate fit.
2. Best Of The Best
When it comes to your players' protection, you want to make sure that you're following best practices.
Well, both the American Dental Association and the Academy for Sports Dentistry recommend a professionally made, properly fitted custom mouthguard for all contact and collision sports.
Additionally, the Academy for Sports Dentistry states that a custom mouthguard is 1000% more protective than any other type of mouthguard, and the National Athletic Trainers' Association recommends that athletes to wear "properly fitted mouthguards during sports activities."
When it comes to mouthguards, the experts agree: custom is the best!
3. Personal Thanks
When it comes to showing thanks or giving a gift, you want to make sure that you're putting a personal touch on your appreciation. And only a custom mouthguard allows your players to display their personality on their gear.
With a choice of 18 solid color options — including shiny metallic choices — there are endless color combination possibilities. Logos — from our free or metallic logo options to team logos or something even more personal — and personal IDs truly make custom mouthguards one-of-a-kind.
Only a custom mouthguard is designed to reflect your player's personal style and help them complete their game face!
What's the best way of giving thanks to your athletes? The protection, comfort and personalization of a Gladiator Custom Mouthguard. See how Gladiator custom mouthguards are the perfect way to say thanks at the link below.