2 To 3 Reasons Why You Need A Custom Mouthguard As 2022 Becomes 2023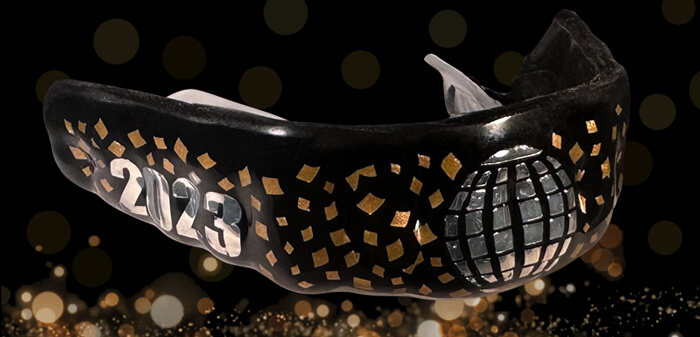 The New Year is always a good time for change. A fresh start. A new chance to achieve goals and make resolutions.
As the year changes from 2022 to 2023, here are 2 to 3 reasons — get it?! — why you need a custom mouthguard:
Trust The Experts
Both the American Dental Association (ADA) and the Academy for Sports Dentistry (ASD) recommend a professionally made, properly fitted custom mouthguard for all contact and collision sports. In addition, the National Athletic Trainers' Association (NATA) recommends that athletes wear "properly fitted mouthguards during sports activities."
Why do all these organizations agree that mouthguards are important? Well, it's because athletes have a 33-56% chance of receiving an injury to the mouth or face during their playing career, and more than 5 million teeth are knocked out during sports and recreational activities each year.
With lifelong maintenance, dental appointments and surgeries, a broken or damaged tooth has a lifetime cost of approximately $20,000. The ASD states a custom mouthguard is 1000% more protective than any other type of mouthguard. Don't risk it, get proper protection.
A Mouthful Of Fun
While getting the best protection possible is certainly fun, the most fun part of getting a custom mouthguard is designing it!
Only a custom mouthguard allows you to display your personality on your gear. Make a statement and personalize your mouthguard to be as unique as you.
With a choice of 18 solid color options — including shiny metallic choices — there are endless color combination possibilities. Logos — from our free or metallic logo options to team logos or something even more personal — and personal IDs truly make custom mouthguards one-of-a-kind.
Only a custom mouthguard is designed to reflect your personal style and help you complete your game face!
Be Your Best
New Year's resolutions are all about self-improvement. So why not find a way to be your best self!
When a generic off-the-shelf boil-and-bite mouthguard is flipping around in your mouth, you are not fully concentrated on the game — you're also not protected, but we already covered that. That mouthguard is a distraction and makes it difficult to breath and communicate when you need to be at your best.
With a custom mouthguard that is formed to perfectly fit your teeth, your mouthguard won't just stay in place with no clenching or biting, it will allow you to breathe easy and communicate clearly. No distractions — just pop it in and go win the game!
As 2022 becomes 2023, don't forget — there are at least 2 to 3 reasons why a Gladiator custom mouthguard makes the perfect New Year's resolution. Make your resolution at the link below.