Thin vs. Thick: Why More Material Doesn't Make Mouthguards More Protective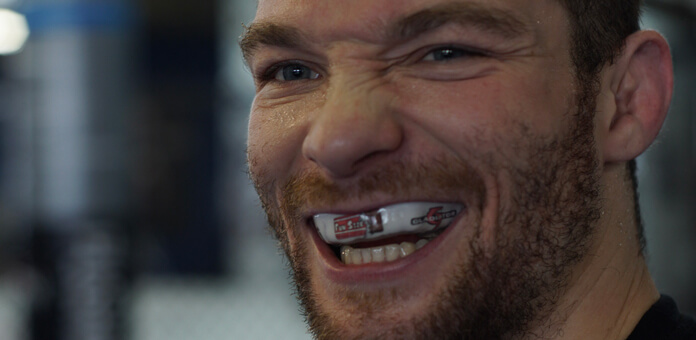 When it comes to mouthguards, it's easy to assume that thicker material means you're getting more protection.
Logically, it makes perfect sense. But in reality, when you want ultimate protection and comfort from your mouthguard, less is more.
How is that possible? How does a thinner mouthguard provide more protection? Simple.
Thinner doesn't equal less protection because of the fit, the design and the materials used to make the mouthguard.
The way mouthguards are engineered and cut matters a lot. You don't want one uniform thickness around the entire mouthguard. That puts material in places it doesn't need to be, making the mouthguard uncomfortable and unnecessarily bulky.
Ultimately, your mouthguard should be thicker in the impact zones — the areas in front of the teeth and under the molars — providing more protection, while being thinner or having no material in areas where protection isn't needed — behind the back of the front teeth and the roof of the mouth.
That's why Gladiator custom mouthguards are created through a layering process that allows different areas to have varying levels of thickness, based on the protection needs of the individual athlete. And with special materials — like our High Performance mouthguard that uses a state-of-the-art Nano-Shock Barrier — the High Performance is 25% thinner than the standard mouthguard.
That means more comfort, better protection, and the ability to breathe, speak and drink clearly without taking out your mouthguard.
Want our advice? Adding bulk to a mouthguard might provide protection, but again, it offers little comfort. Comfort is king. And it's a no brainer that anything is better than nothing when it comes to a mouthguard, meaning the best mouthguard is the one your athlete is going to wear. Compliance is the answer!
In the question of thin versus thick, thin wins out every time.
When it comes to thin versus thick mouthguards, how the mouthguard is made and where that thin/thick material is located matters most. Want the thinnest, most comfortable and protective mouthguard available? Get a Gladiator! Learn more at the link below.