Athletic Equipment: How Do You Guarantee Your Players Are Compliant?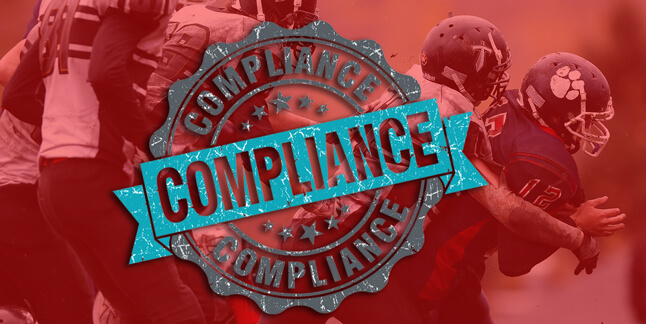 When it comes to athletic equipment, there are many factors to think about. What's the cost of the gear? How many players must be outfitted? Are your players actually using the equipment you purchase them?
That last question is the most important, as the number one issue with athletic equipment is compliance. And that's especially true for mouthguards.
As an athletic trainer or coach, you have likely heard your players claim that their mouthguards are uncomfortable or that they just don't like wearing them. Well, that causes problems.
First and foremost, its likely that you're constantly chasing your athletes around trying to get them to wear their equipment, which is the last thing you need to be doing when you have so many jobs to do already. But when your players aren't wearing their mouthguards they aren't complying with rules, are in danger of receiving in-game penalties and are just flat out not being properly protected.
What if there was a mouthguard that helped to guarantee compliance? Impossible, you say. Well, here are three ways to get your athletes a mouthguard that they'll actually wear:
1. It's All About The Fit
Many mouthguards now claim to have a "custom fit," but that is simply not true, particularly when it comes to generic or off-the-shelf mouthguards. Any product that is heated or boiled to form a fit does not offer a true custom fit.
A custom fit is only obtained from a perfect impression of the athlete's individual mouth structure, which allows the mouthguard to fit securely on the upper teeth without biting or clenching. Mouthguards shouldn't fall out, shouldn't float around the mouth, and should definitely not irritate the athlete's mouth.
2. Comfort By Design
While the perfect fit starts with a true impression of the athlete's teeth, the design of the mouthguard also plays a major role. Generic mouthguards are created from a uniform mold, which gives them one uniform thickness around the entire mouthguard. That puts material in places it doesn't need to be, making the mouthguard uncomfortable and inhibiting speaking and breathing.
Gladiator custom mouthguards, for instance, are created through a layered process that allows different areas to have varying levels of thickness, based on the protection needs of the individual athlete. This layering allows a custom mouthguard to be thicker in the impact zones — the areas in front of the teeth and under the molars — providing more protection, while being thinner or having no material in areas where protection isn't needed — behind the back of the front teeth and the roof of the mouth.
That means each individual mouthguard is made 100% for that specific individual and their sport, allowing them to breathe, speak and drink clearly without taking out their mouthguard. Discomfort should no longer be an excuse!
3. Gear They Identify With
Their mouthguards fit. Their mouthguards are comfortable. But your players still aren't wearing them?
It may be superficial, but oftentimes players disregard their mouthguards because they are boring, ugly hunks of orange rubber. They have no reason to make a personal connection with such a simple piece of equipment.
Well, what athlete doesn't get excited to get their own jersey or unique team jacket? Team gear is one of your athletes' favorite things, and with complete personalization — from name and number to team logo and colors — their custom mouthguards won't just fit them perfectly, but reflect their identity as well. There's no better way to guarantee compliance!
How do you guarantee that your players are compliant when it comes to athletic gear like mouthguards? Simple: just get them the most comfortable, most protective and most personalized mouthguard available. Get them a Gladiator! Learn more at the link below.