The Right Ice Hockey Mouthguard For You Depends On One Important Factor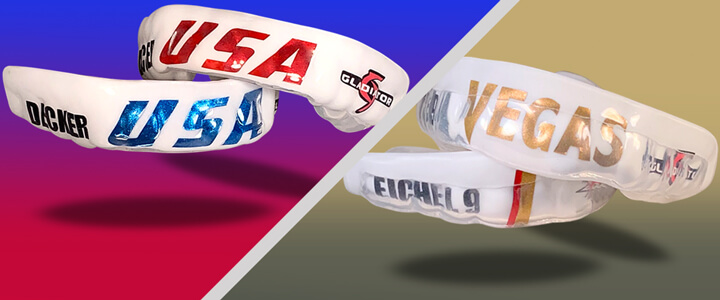 Face shields are a very important topic right now, for obvious reasons. When it comes to ice hockey though, they are the most important topic. Especially when you're searching for the best hockey mouthguard for you.
Why is your face shield such an important factor? Simple: the mouthguard you need depends on whether you wear a half shield or a full cage. And that comes down to two needs: protection and communication.
Let's start with the full cage, since the worry of a frontal impact is smaller than a half shield. Obviously, the full cage provides much more protection, as it covers the face entirely, but it still doesn't prevent collisions between the upper and lower jaw.
Ice hockey is played at increasingly higher speeds and levels of contact as you get older, and with more legal body contact you are more susceptible to those types of collisions in your mouth. That impact can lead to multiple injuries, including broken teeth, a broken jaw and concussions. So, a mouthguard is still absolutely necessary, even with a full cage.
You want to make sure you get an ice hockey mouthguard that has proper protection against upper and lower jaw impact. Since you have the full cage, you can opt for more comfort with a thinner frontal profile — but more material in the impact zones where your jaw would collide — increasing your ability to breathe and speak clearly.
If your helmet has a half shield, you are more at risk of a direct impact from another player, a stick or the puck than if you use a full cage. And that means you need a mouthguard that provides more protection, especially across the front to defend your teeth from contact.
Unfortunately, unless you use special materials — like the High Performance Gladiator — a super thin option won't be best for you. But that doesn't mean you need to sacrifice comfort to wear a mouthguard that protects you properly.
In fact, there is a thing as too much protection! You want to make sure that your mouthguard isn't too big or bulky, because it won't actually protect you any better, but it will make it harder for you to breathe and speak.
Whether you wear a half shield or a full cage, there is one mouthguard that fits all of your needs on the ice: the Gladiator Pro series.
Perfect for all sports, the Gladiator Pro provides the premier combination of comfort and protection. That means you have the confidence of playing with proper protection, comfort and the ability to breathe and speak. And with performance upgrades, you can even get additional protection or chewing durability.
With a patented cut design that eliminates bulk and any unnecessary material, Gladiator custom mouthguards give you the thinnest, most comfortable custom mouthguard possible while also providing the best protection.
No matter what kind of face shield you wear.
Shopping for a mouthguard for the upcoming ice hockey season? Don't forget, the level of protection you need depends on your style of face shield. Whether full cage or half shield, only one custom mouthguard gives you the best comfort and protection. Learn more at the link below.