Take Your Athlete's Protection To The Next Level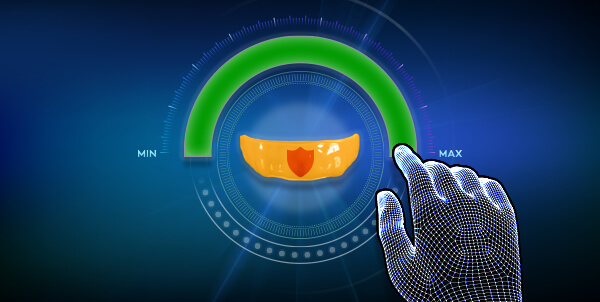 When purchasing protective equipment for your athlete you want to spend your money wisely, especially when you have multiple pieces of gear you need to buy.
But there is one area you certainly shouldn't skimp on: facial protection.
While you may initially balk at the cost of a custom mouthguard (versus a cheap boil-and-bite), there are a number of benefits that help take your athlete's protection and performance to the next level.
1. There's no "1" in Mouthguard
Every athlete has different needs — and that means their equipment can't be one-size-fits-all.
This is especially true when it comes to mouthguards. Simply put, there is no one style of mouthguard that works universally for all athletes!
Some players are sensitive gaggers and need a thinner guard for more comfort. Others may have previous injuries or compete in high-impact sports where they need more protection. Some athletes are chewers, and their mouthguard should be tougher and able to withstand their habit.
All mouths are different, and all athletes need a mouthguard for their unique mouth structure and sport.
2. Perfect Placement
Speaking of all mouths being different … when your athlete's mouthguard isn't made for their specific mouth — like an off-the-shelf generic and bulky boil-and-bite mouthguard — they tend to float around in the mouth and can become easily dislodged. That means your athlete is leaving themselves open to injury.
Since the most important part of protective equipment is making sure that it's in the right place when it's needed, that's not an ideal situation. Especially when you consider that the lifetime cost of maintenance, appointments and surgeries related to a broken or damaged tooth is approximately $20,000!
Only a custom mouthguard made from an exact impression of your athlete's mouth will fit perfectly and stay in place without biting or clenching. That guarantees the mouthguard is where it needs to be if they are hit in the face or jaw.
3. No Distractions
Have you ever had an irritating tag in the back of your shirt? Unless you remove the tag, the shirt is difficult to wear without thinking about the tag tickling or bothering your neck.
Now imagine you're in the middle of a high-pressure athletic event, expected to perform at your best, yet your focus and attention is on the uncomfortable and poorly fitting piece of protective equipment.
Athletes need to be fully focused on the task at hand to compete at their best. The last thing they should be thinking about is a piece of gear. They can't have loose or poorly fitting equipment getting in the way of what they do best.
A custom mouthguard fits so intimately that it's not just comfortable, but helps enhance breathing and in-game communication as well.
4. Protection for All
We've already stated that each mouth is unique, but aside from the actual structure things like braces, missing teeth, baby teeth and other dental situations make the mouth a complicated place.
Some of those circumstances are difficult for mouthguards to accommodate — even certain custom mouthguards — leaving these athletes with next to no options.
Not Gladiator Custom Mouthguards.
Your athlete deserves a true braces-friendly mouthguard or one that can accommodate their specific set of teeth or unique mouth structure. We will help any and every athlete get the right protection that they need.
With more than 22 years of experience, only Gladiator Custom Mouthguards — the longest standing, consumer-direct custom mouthguard manufacturer in the nation — has the knowledge to work with all athletes.
Take your athlete to the next level with the leader in protection, comfort and custom. See why your athlete deserves a Gladiator custom mouthguard at the link below.