Pay For Play: Why Do Custom Mouthguards Cost More Than Other Choices?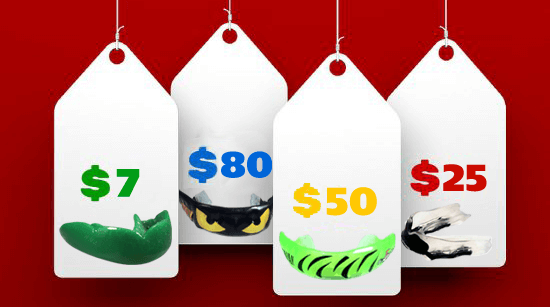 When it comes to purchasing athletic equipment, you want to spend your money wisely, especially when you have multiple pieces of gear you need to buy. But there is one area you certainly shouldn't skimp on: facial protection.
Did you know that athletes have a 33-56% chance of receiving an orofacial injury — an injury to the mouth or face — during their playing career? And guess what: with lifelong maintenance, appointments and surgeries, a broken or damaged tooth has a lifetime cost of approximately $20,000. That's just to replace one tooth!
So how do you protect your mouth and face? With a mouthguard; but not all mouthguards are created equally. What's the difference between a $7 mouthguard and one that costs $50? Quite a bit, actually.
Standard mouthguards — the less expensive mouthguard — are inexpensive for a reason. They come right off the shelf of a storeroom and are formed to the mouth by boiling in hot water and biting into them — one step, one process. Here's the thing though, your mouth is only able to generate 7-9 pounds per square inch of pressure. And because most standard mouthguards are made from a stock-mold, they are not meant to fit your unique mouth structure.
Everyone's mouth is different and proper protection comes from a perfect fit — something you're not getting from standard mouthguards. However, a custom mouthguard is made directly on a stone model of your mouth, which is made from an exact impression of your teeth, and pressed at 120 pounds per square inch. That allows for the most imitate fit possible, meaning your mouthguard remains snug on your upper teeth with no biting or clenching.
While the fit of a mouthguard is the most important, the design of the guard is a close second. Standard mouthguards are created from a uniform mold, which gives them one uniform thickness around the entire mouthguard. That puts material in places it doesn't need to be, making the mouthguard uncomfortable and inhibiting speaking and breathing. When a mouthguard is one size fits all, it actually doesn't fit anyone.
The creation of a custom mouthguard is a layered process that allows different areas to have varying levels of thickness, based on the protection needs of the individual athlete. This layering allows a custom mouthguard to be thicker in the impact zones — the areas in front of the teeth and under the molars — providing more protection, while being thinner or having no material in areas where protection isn't needed — behind the back of the front teeth and the roof of the mouth.
That means each individual mouthguard is made 100% for that specific individual. That's why custom mouthguards are the most comfortable mouthguards available. And that custom cut design doesn't comprise breathing or speaking either.
Sure, at first glance the lower price point of a standard mouthguard seems attractive — around $7-25 compared to $50-130 for a custom mouthguard — but the cost of a custom isn't simply for better protection and comfort. With the creation of the stone model for your custom mouthguard, you have the ability to forgo the impression process in the future.
Most custom mouthguard manufactures offer discounts up to 50% off on future orders with that same stone model, as that is what's needed to create your custom mouthguard. Because athletes go through multiple standard mouthguards per year, the long-term value of a superior mouthguard should make your decision easy.
While it's easy to choose to spend $7 on a mouthguard rather than $50, it's important that you really consider the costs that you don't see on the price tag. Between protection, comfort and the lifetime costs of facial damage, purchasing a custom mouthguard should be a no brainer. Need more convincing? Learn more at the link below.