Clear Communication: How Mouthguards Help Determine Your Team's Success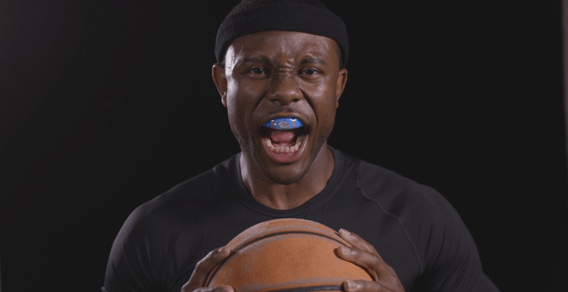 Much like most aspects of life, communication is paramount to being successful in athletics.
Whether it's communication between coaches and players, or teammates on the field, court, pitch or ice, being able to clearly speak and hear each other is a major key for success. Coaches and team leaders spend painstaking hours getting their athletes to communicate with clarity … so why let something as simple as a mouthguard get in the way of that?
Communication may be a key to success, but generic mouthguards aren't speaking the right language. Important functions like speaking, breathing and drinking water are severely inhibited by the bulkiness of a stock or boil-and-bite mouthguards.
Why are they so bulky? Standard mouthguards are created from a uniform mold, which gives them one uniform thickness around the entire mouthguard. That puts material in places it doesn't need to be.
Let's try an experiment: stick your thumb or finger on the back of your front teeth and try to speak. Is your speech unclear and muffled? This is why mouthguards need to be made with as little material as possible in this area, as well as little-to-no material in the areas along the inside of the teeth, especially the molars.
Material in these areas of the mouth doesn't actually provide protection. It simply inhibits speech and breathing. And that's where your communication issues are stemming from.
The "one-size fits all" approach of generic mouthguards makes them uncomfortable, while inhibiting speaking and breathing. When a mouthguard is one size fits all, it actually doesn't fit anyone. That's why the creation of a custom mouthguard is a layered process that allows different areas to have varying levels of thickness.
Thickness is provided in the impact zones — the areas in front of the teeth and under the molars — providing proper protection, while being thinner or having no material in areas where protection isn't needed — the back of the front teeth and inside the teeth.
That means a custom mouthguard doesn't comprise breathing or speaking, offering the best communication and the highest level of comfort available.
And with a custom mouthguard, you won't just speak, breathe and drink with ease; you'll actually play better! That's because a proper fitting mouthguard allows for the optimal oxygen flow, which enhances your performance.
Are you having trouble communicating clearly with your coaches or teammates? You may not realize it, but your mouthguard may be inhibiting the way you speak, breathe, drink and even play on the field, court, pitch or ice. Learn more about why a simple mouthguard change may be enough to turn you into a successful communicator. Check out the link below.