Repeat Winner For Gladiator Best Defensive Forward Award In ECAC Hockey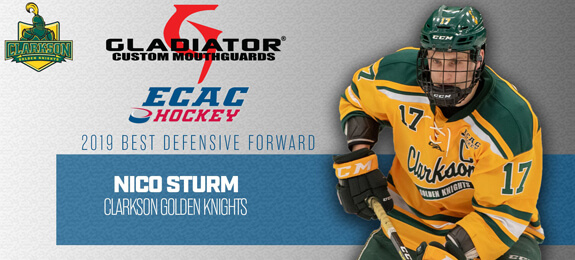 The Gladiator Custom Mouthguards Best Defensive Forward Award is selected by the league's 12 head coaches at the conclusion of the regular season.  
For the first time, this year's winner is a repeat winner. Congratulations to Nico Sturm of the Clarkson Golden Knights.
The junior from Augsburg, Germany powered Clarkson's success this season with extremely effective play at both ends of the ice. Nico lead the league in plus/minus, posting a +23 mark while also pacing the Golden Knights with his 41 points on the season. Along with his 31 blocked shots, Nico proved again to be an elite two-way player.
Sturm's exceptional play has attracted attention from around the hockey world, as he was recently named the number one un-drafted college hockey prospect by ESPN.
Gladiator congratulates Nico and all of the student-athletes winning awards this year and is proud to be associated with ECAC Hockey and their student-athletes.
Gladiator has been a sponsor of ECAC Hockey since 2010 and annually presents the Best Defensive Forward Award.
A full press release can be found here.