Five Reasons Athletes Don't Wear Their Mouthguards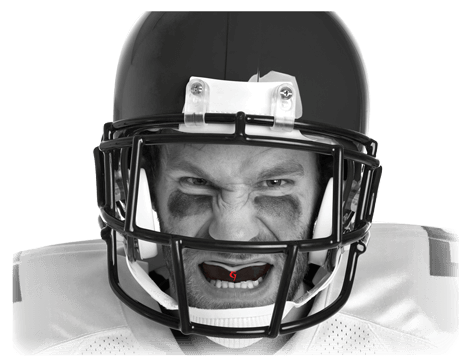 A mouthguard is an essential piece of athletic equipment that protects your teeth and mouth. So why does it seem like you have to remind your players to wear them?
Athletes certainly aren't against wearing mouthguards — as LeBron James would attest; it's just that oftentimes the mouthguard they have is uncomfortable or too loose in their mouth, making it hard to speak or breathe. There are a number of factors that go into players leaving their mouthguards in their lockers, but stepping onto a field or court without a mouthguard is like pulling out of the driveway without a seatbelt.
For every reason your athletes choose to not wear their mouthguards, there is a simple solution.
Thick In All The Wrong Places
Everyone's mouth is different. When it comes to your players' comfort, it's all about customization.
Mass produced mouthguards that aren't customized to the athlete's individual mouth typically have a uniform thickness all the way around, making the guard bulky in areas where comfort is more important than protection. And when a mouthguard is uncomfortable, chances are the athlete wearing it is paying attention to their mouth and not the task at hand.
With mouthguards that are designed taking into account the individual structure of each player's mouth, your team won't just be more comfortable, but more focused.
Communication Breakdown
Due to the bulky nature of most mouthguards, your player's speech may be inhibited, causing miscommunication with teammates and potential breakdowns in play. Communication is vital for any team to be on the same page, and a lapse in that communication may be the difference between a win and a loss.
A Great Price
With six different styles to choose from, there is a perfect Gladiator waiting to lead you into battle starting at $45.
Bulky, ill-fitting mouthguards impede a player's speech because the guards tend to fall off of the upper teeth, getting in the way. This is why you see many athletes chewing on their mouthguards. If they are chewing, they're not communicating.
Mouthguards that are formed to an athlete's specific mouth structure, allow the athlete to speak unimpeded, while keeping the guard firmly on their teeth. This means better communication on the field and less attention your players need to pay to their mouths.
Take Your Breath Away
Similarly, those bulky, chewed-up mouthguards aren't allowing your players to breathe correctly, because the passage of air is being blocked by unnecessary material.
The precise fit of a custom mouthguard allows for better breathing techniques. By taking in more oxygen, your players maximize their endurance and performance — meaning they'll be faster, stronger and last longer than opponents.
The Non-Thirst Quencher
Much like talking and breathing, drinking is also constrained by standard mouthguards. In fact, the majority of athletes take their guards out to drink from their water bottles.
This causes a two-fold problem: your athletes may forget to put their mouthguards back in, putting them in a vulnerable position; or worse, they may not want to keep taking the guard in and out, and forgo it completely.
With the risk of injuries from a hit to the mouth or jaw so high, it's imperative that your players have the proper protection they need and remember to use it. While bulky mouthguards need to be removed to take a drink, custom mouthguards stay right where they need to be, leaving your players free to hydrate as needed.
Who Are You?
At the end of the day, many mouthguards look like an unidentifiable, chewed up mess. When each player has the exact same boil-and-bite mouthguard every one of his or her teammates has, how are they supposed to tell there's apart from the rest? Why would they grow attached to their mouthguard?
Unlike their uniforms, your athletes aren't going to wear their generic mouthguards throughout gameday to get them psyched up. Like thigh pads or shin guards, generic mouthguards just don't offer the same identity that team apparel does, making them an afterthought.
On the other hand, customized mouthguards don't just give your players the ability to speak and breathe clearly while providing them the protection they need; they become apart of your uniform. With personalization, custom mouthguards are an extension of your team's personality. Colors, names, numbers, logos — your players won't just wear them in-game, they'll have a whole new piece of team apparel to complete their uniform.
Let your players breathe easily and speak clearly while getting the personalized protection they need from a comfortable, high-performance Gladiator Custom Mouthguard, the industry-leader in custom mouthguards.