Advancements In Sports Equipment: All-Stars Or All Advertising?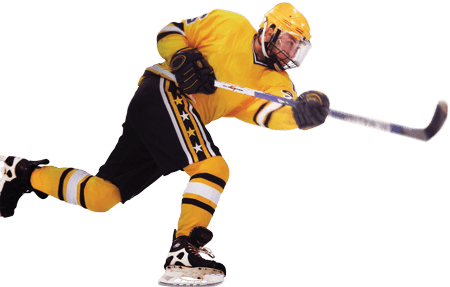 comfortable, personalized mouthguards.
There's no debating the fact that sports equipment has evolved tremendously over the years. We've seen wooden hockey sticks replaced by lightweight composites, heavy "sweater" jerseys abandoned for sweat-wicking uniforms and pieces of chewed-on rubber being upgraded to
It's amazing to see the advancements in sports equipment technology, and you'd have to assume it only gets better and more advanced from here. But are new developments in sports technology really being made or are equipment companies simply selling you on a marketing gimmick?
An argument could certainly be made that most advertisements for sports equipment are simply a device to get an athlete, coach or trainer to purchase their equipment brand over another. While some questions are easily answered — for example, a lightweight composite hockey stick does help your players shoot harder than a wooden one — others are much more difficult to determine.
A great example of this is a current trend in the NBA: short-sleeve jerseys. The Golden State Warriors rolled out the short-sleeved top last season, with more teams rumored to follow suit this year. Is there an athletic benefit to wearing short-sleeves? The obvious answer is no, particularly when you realize teams only wear these jerseys on occasion; akin to the always-popular alternative uniform. If Stephen Curry and Andre Iguodala see their shooting percentages increase significantly when they wear short-sleeves, won't the Warriors elect to wear them every game? The truth is, new styles of jerseys — much like throwbacks — provide owners with another source of merchandising income.
While you need to read between the lines when it comes to teams changing the aesthetics of their uniform, there are advancements in sports equipment technology that are intended to enhance athletic performance. In recent years, the NHL has been experimenting with tighter, form-fitting sweaters for players to be more aerodynamic and increase the speed of the game. You may also notice that many athletes across the world of sports are now wearing compression shorts; which help improve circulation and blood flow.
Advancements in sports equipment truly are made every day. While it may be hard to distinguish between fact and crafty advertising, there are a few ways for you to tell the difference:
Evidence
Is there hard evidence being presented? It's a fact that composites are lighter than wood and metal, allowing for harder shots with a lightweight composite stick. There is no evidence suggesting short-sleeves improve your three-point shot.
Testimonial
Testimonials are always a great reference. If a teammate or friend uses a certain product and attests to it being better then another, wouldn't you be more inclined to try the product they endorse?
Common Sense
Can a pair of shoes help you play basketball like LeBron James? No. Can a custom, comfortable mouthguard help you communicate more clearly on the court like LeBron James? Absolutely!
Most often mouthguards are uncomfortable, bulky and poorly constructed. But advancements in the technology of mouthguards — using a high-heat/pressure, multi-laminated production method — allow them to be custom engineered for each athlete, giving them the appropriate thickness for the maximum amount of protection. Custom mouthguards even enhance performance and endurance through better oxygen intake. And that's a fact.
With advances in technology and Gladiator's Compliance Guarantee, it's easy to give your athletes the most comfortable and protective mouthguard possible.