FACT: Fall Is Fast Approaching. Are Your Players Properly Protected?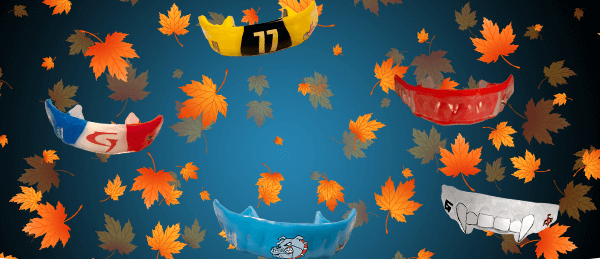 Summer is (somehow already) nearing a close, and as vacation season starts to wrap up its time to start prepping for the upcoming season.
With fall fast approaching, it's important that you begin researching, planning and arranging for your athletes' proper protection. What does proper protection entail? Here are the important facts to pay attention to as you begin preparing for your fall season:
FACT: The lifetime cost to replace just one tooth is upwards of $20,000 and athletes have a 33-56% chance of receiving an orofacial injury — an injury to the mouth or face — during their playing career. With more than 5 million teeth knocked out or damaged annually during recreational activities, it's important not to take any chances when it comes to serious injury.
FACT: The American Dental Association and the Academy for Sports Dentistry recommend a professionally made, properly fitted custom mouthguard for all contact and collision sports. Additionally, the Academy for Sports Dentistry states a custom mouthguard is 1000% more protective than any other type of mouthguard, and the National Athletic Trainers' Association recommends that athletes to wear "properly fitted mouthguards during sports activities."
FACT: Mouthguards help protect athletes from orofacial injury, however, many athletes tend to remove their mouthguard between plays or practice drills. While they do this to take a drink of water or talk to a coach, what they're not realizing is that each time they remove their mouthguard all the germs from their hands get on their guard and go directly into their mouth. Constantly removing and adjusting mouthguards also presents more opportunities for it to fall out or become dislodged during play.
FACT: When a mouthguard fits snuggly on the upper teeth, without having to bite or clench to keep it in place, it provides proper protection. It also allows your players to speak, breathe and drink with ease, which increases their abilities, as the optimal oxygen flow enhances performance. A precise fit means your athletes can go an entire game or practice without removing their mouthguard, keeping them protected from both injuries and germs.
FACT: Boil-and-bite mouthguards are one size fits all and the stock mold conforms to an athlete's mouth by the individual biting down on the guard. The human mouth can only apply about 9 lbs. per square inch of pressure. Custom mouthguards are pressed at 120 lbs. per square inch! That specific engineering helps to create an intimate fit for each individual mouth structure, meaning the mouthguard is exactly where it needs to be when impact occurs.
FACT: With a patented design and cut process, Gladiator custom mouthguards are made to match the exact mouth structure of each individual athlete. That unique fit provides maximum comfort, because it removes all of the material where the athlete doesn't need it, leaving material only in the important impact zones.
Now that you have all the facts about mouthguards, you can enjoy the remaining days of summer vacation and go into the fall season confident that your players will remain protected and safe. Need more facts? Learn more at the link below.