3 Reasons Why Your Football Mouthguard Should Be Specific To Your Position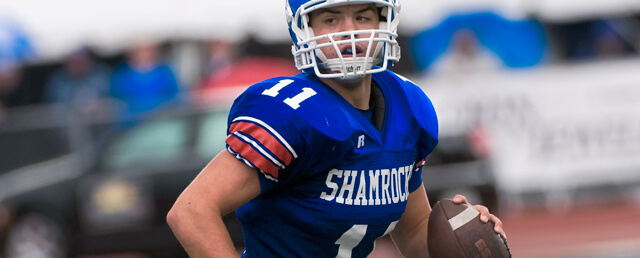 Purchasing a mouthguard for football should be simple, right? After all, football players wear helmets with facemasks.
While all athletes need proper orofacial protection, those on the gridiron are no different, in football the needs of players actually vary depending on their position. What a quarterback needs out of a mouthguard is drastically different from what defensive linemen need. And, of course, there are individual necessities like playing with braces.
When you're searching for the right mouthguard for the upcoming football season, there are a few things that you should consider:
No Interference
Let's start with quarterbacks and other position groups that need to communicate to teammates on the field. That includes skill positions players like wide receivers, as well as linebackers in charge of calling defensive formations.
It goes without saying that communication is key here. That means speaking clearly and uninhibited so that the team can hear the play call and not be caught out of sync. You should be looking for the thinnest mouthguard possible — however, that does not mean sacrificing protection.
A mouthguard with a thin frontal profile — like the Gladiator HP Lite — has minimal material throughout the guard to greatly help comfort and communication, without compromising the protection between upper and lower jaw collisions.
Add An Extra Blocker
Those collisions between the upper and lower jaw are what cause multiple injuries, including broken teeth, a broken jaw and/or concussions. Players like offensive and defensive lineman, and other players considered heavy hitters like linebackers or safeties, are more susceptible to them on a play-by-play basis.
These are positions that need an extra boost in protection without added bulk, as comfort is still obviously important.
That means you should look for a mouthguard with additional protection where needed without adding bulk around the whole guard, like our popular Pro with Power Grip upgrade. This features an additional insert just under the molar surface, to provide that extra protection without increasing the overall bulk of the guard.
In The Trenches
No matter what position you play, one of the most difficult mouthguard problems to solve is finding a comfortable braces mouthguard. Most braces mouthguards are overly bulky to accommodate the brackets and wires, so there's only one clear option: a custom fit mouthguard.
A custom mouthguard gives the exact fit needed for your mouth and braces because it is engineered to your specific mouth structure. And Gladiator custom mouthguards are designed with a channel to fit over the brackets and wires without inhibiting orthodontic treatment or alignment.
At the end of the day, football mouthguards have two main requirements: be comfortable to speak and breath clearly and provide the proper protection from collisions.
With a patented cut design that eliminates bulk and any unnecessary material, Gladiator custom mouthguards give you the thinnest, most comfortable mouthguard possible while also providing the best protection. Period.
Shopping for a mouthguard for the upcoming football season? Don't forget, the cut and style of your guard depends on your specific position and needs. And only a custom mouthguard gives you the ultimate comfort and protection. Learn more at the link below.