Your Guide To Getting The Proper Protection For Your Particular Sport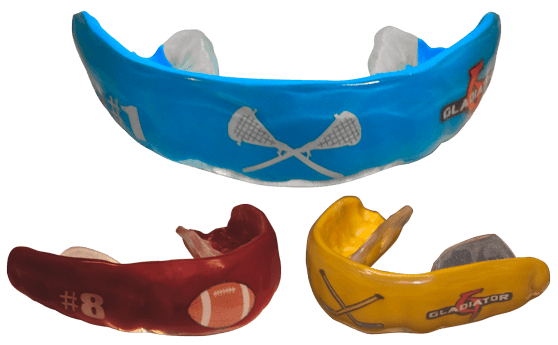 While mouthguards may seem like a simple piece of athletic equipment, there are actually many different options available to you and your players. And, depending on your sport, the level of protection you need may vary.
Proper protection starts with a minimum of 4 mm of material in the important impact zones — the areas in the front of the teeth and under the molars. However, these zones change from sport to sport; as a mouthguard that's recommended for football may not be ideal for field hockey.
So, how do you navigate the world of mouthguards? Which mouthguard is best for your players? Let this simple guide — which categorizes sports together based on their similar protection needs — help you choose the mouthguard that's right for you:
Category 1: Ice hockey, football and boys'/men's lacrosse
When it comes to ice hockey, football and men's lacrosse, the main concern for mouthguards is protecting against collision between the upper and lower jaw. That's because all three sports already feature facial protection in the form of a facemask, cage or full shield attached to the helmet (although, if your ice hockey players wear a half shield, please see category 2 below).
Because frontal impact is guarded by the facemask or shield, your players' mouthguards may have a thinner frontal profile, but feature more protection under the molars. That protection acts as a shock absorber when impact is made to the jaw, protecting against serious damage.
A thinner frontal profile also allows for more comfort and better breathing and communication, which is highly important in team sports. Too much material sacrifices the ability to speak clearly.
Gladiator recommendation: High Performance Lite or Pro
Category 2: Soccer, basketball, roller derby, girls'/women's lacrosse
Unlike traditional contact sports like hockey and football, sports like soccer and basketball don't require helmets or facemasks, which means your athletes are left open to facial or oral injury. And don't be confused; soccer, basketball and women's lacrosse are certainly contact sports in their own right.
Due to the fast pace of these sports and the lack of facial protection, your players' mouthguards must protect all of the impact zones, not just the molars. While impact to the face is unintentional in these sports, it does happen. So while facemasks aren't required, protection of the frontal impact zone is important.
Like category 1 sports though, frontal protection doesn't need to be overdone. That's because communication and breathing is just as important in these team sports as well.
Gladiator recommendation: High Performance or Pro
Category 3: Field hockey
While very similar to category 2 sports, field hockey differs simply because it is played with both a harder stick and a much harder ball.
The sport is also played primarily below the face. That means that any impact to the mouth or face typically comes in an upward direction. If it does reach the face, the damage could be fairly significant; so more protection may be needed in both the front and in the molars than in sports like soccer or women's lacrosse.
Gladiator recommendation: Pro, but may want to consider the additional protection of the Elite at the higher varsity level.
Category 4: Mixed martial arts and boxing
Mixed martial arts and boxing are two sports that feature no facial protection of any kind, yet also feature direct and deliberate constant impact to the mouth and face.
While headgear is sometimes worn, additional protection is required along the molars to protect against the impact between the upper and lower jaw. And for fighters who don't wear headgear — or more novice athletes — additional frontal protection is recommended as well.
Gladiator recommendation: Elite or Pro with Power Grip upgrade
Category 5: Brazilian jiu jitsu, wrestling
Similar to category 4 sports, jiu jitsu and wrestling feature no facial protection, and while constant direct blows to the mouth and face aren't permitted as they are in MMA and boxing, they still occur.
Unlike category 4, additional frontal protection is not required, but additional protection under the molars should be considered.
Gladiator recommendation: Pro with Power Grip upgrade
When it comes to your players, you want to give them the proper protection; but it's important to know what proper protection is needed for your particular sport.