Welcome Brianna Decker, Newest Member Of Team Gladiator

Brianna Decker is the Daenerys Targaryen of women's hockey — she holds many titles. Olympic gold medalist, international world champion, international tournament MVP, NCAA champion, National Women's Hockey League (NWHL) champion and MVP, Canadian Women's Hockey League (CWHL) champion and playoff MVP.
And now she can add another title to her long list of them: the first female Team Gladiator athlete!
"I am honored to have Brianna as Team Gladiators' first female athlete," said Bobbie Quinn, Co-founder of Gladiator Custom Mouthguards. "Her numerous, remarkable accomplishments are a testament to both the amazing athlete and person she is. Brianna is a perfect addition to Team Gladiator."
Decker is no stranger to breaking the gender barrier in ice hockey. She participated in the 2019 NHL All-Star Skills Competition in San Jose, where she demonstrated the premier passing drill event. Her demo time of 1:06 was faster than all eight NHL athletes who competed in the event.
A Wisconsin native, Decker attended the University of Wisconsin where she won a NCAA championship with the Badgers in 2011 and was awarded the 2012 Patty Kazmaier Award, recognizing the best female ice hockey player in NCAA Division I.
As a member of the U.S. Women's National Team, Brianna represented Team USA at two Olympic Winter Games, winning gold in PyeonChang in 2018 and silver in Sochi in 2014. An alternate captain on the gold medal-winning team, Brianna led Team USA with three assists in five games in PyeonChang.
She has also played in seven International Ice Hockey Federation (IIHF) Women's World Championships, helping the U.S. bring home six world titles and collecting many accolades along the way. Brianna was named the tournament's Most Valuable Player and Top Forward in 2017, selected to multiple media all-star teams, and voted as one of Team USA's top three players four times.
"When I met Brianna in 2015, I was so impressed with her dedication to ice hockey and her incredible talent," said Quinn. "I was excited to introduce her to Gladiator, as she was in need of a mouthguard she could wear with comfort that wouldn't interfere with her game."
Decker first wore a Gladiator as a member of Team USA, where she wore a clear High Performance Lite with Gladiator's USA logo. When asked about her Gladiator Decker stated, "I love my Gladiators. Only mouthguards I ever really wore." She continued to wear the same HP Lite as a professional in both the CWHL and the NWHL. A champion and MVP in both leagues, Brianna's accomplishments are very impressive.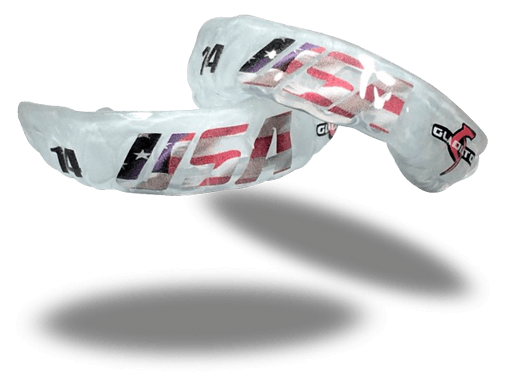 Brianna was recently named to the Wisconsin Hockey Hall of Fame, and also announced the Brianna Decker Endowment for Girls Hockey through the USA Hockey Foundation, in support of girls' hockey programs.
A winner at every step of her career, Brianna Decker truly embodies what it means to be a Team Gladiator Athlete. Welcome to the Team Gladiator Family!