Student Athletes: Do Recruiting Services Help Get To The Next Level?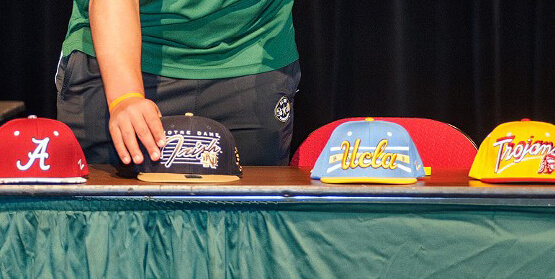 Are you a high school athlete — or the parent of a student athlete — who has dreams of reaching the next level? Do you think you have the talent to receive an athletic scholarship?
With the increasing popularity of high school scouting services and college recruiters, it's becoming more competitive than ever to become a college athlete. Is it a good idea to use a recruiter in the hopes of landing an athletic scholarship? Here are four things to consider:
1. Adjust Your Thinking
High school scouting services aren't "agents," and that's actually sort of a dirty word within high school and NCAA sports. Because people are much more familiar with sports agents than college recruiters, you may hear parents or other people using the word "agent" when discussing recruiting services.
But high school recruiting services don't broker deals with schools or actually place athletes in colleges. They help student athletes gain exposure and make contact with colleges, and most offer talent evaluation and preparation for reaching coaches around the country.
2. Keep Realistic Goals
Recruiting services help high school athletes with the college recruiting process. But that doesn't automatically mean a college recruiter is able to get you to a division 1 school.
Most athletes dream about playing in the top, most competitive situation possible; and at the collegiate level that means playing "D1." But not every athlete makes it to D1 and simply working with a recruiter doesn't guarantee anything. In fact, very few athletes actually get to go the division 1 route, as approximately one percent of high school basketball players in the country — of which there are more than 500,000 of them — actually go on to play at D1 programs. Similarly, there are roughly 1.2 million high school football players and only 2.9% end up at D1 schools.
It's important that athletes and parents are educated about what it takes to not just get to the D1 level, but make it to the collegiate level in general. Division 1 isn't the only opportunity to play collegiately, and athletes should pick the best situation for them, not a school based on the name on the uniform. Speaking of which…
3. Find The Right Fit
Whether you're a student athlete or just generally applying to schools, one of the most important things for you to do is pick the school that best fits your needs. Yet that doesn't always seem to happen, with major college decisions sometimes coming down to where friends are going or sunny locales.
Sure, it's really intriguing to be able to tell people that you're going D1 — particularly in this day and age of social media — but what if division 1 isn't the best fit? Maybe you need playing time right away or perform better as the big fish in a smaller pond. Maybe you need smaller class sizes and a particular major. Remember, college is more than athletics; it's also about getting a good education and preparing for a world after sports.
So how do you make the right choice? Develop a list of target schools to begin contacting, typically 25-30 schools initially. As your high school career progresses, continue to add schools to the list. That doesn't necessarily mean you'll talk to or get recruited by them all, but the more schools you contact, the better you'll understand which school is right for you.
By the time you reach your senior year, you should be able to narrow that big list down to about 5-10 schools you are really interested in, and that have coaches that are interested in you. Take unofficial visits to as many of those schools as you can, and ideally, you'll get invited on official visits by the coaches too! When making the final choice though, there are some things to consider:
Do they offer the major you're interested in?
Is the coaching staff in danger of being fired or leaving?
Will there be playing time available as a freshman?
Will you want to or have to red shirt?
Are the coaches recruiting your position heavily?
Resources: One helpful tool to navigate the chaotic college recruiting process is the book, The Athletic Recruiting Playbook, a guide to better understanding high school scouting and college recruiting.
If you're a student athlete who wants to play collegiate sports and has the talent to do so, with the right thinking, goals and approach you will find the best place for you.