Strapped: The Pros And Cons Of The Mouthguard Strap Attachment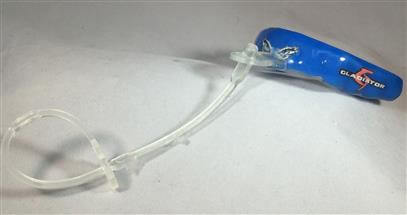 To strap or not to strap: that is the question.
Should your players' mouthguards have a strap attachment? This is a question that doesn't seem to have a finite answer. If your league mandates a mouthguard strap, then your players likely use a mouthguard strap. But not many leagues have an official ruling on mouthguard straps.
Are straps necessary? Do they increase player safety? What are the benefits of wearing one? Let's take a look at some of the pros and cons of using a mouthguard strap:
Pro: Compliance made easier
One of the most basic benefits to wearing the mouthguard strap attachment is that it helps athletic trainers, coaches and, most importantly, officials clearly see that athletes are in compliance with mandatory protective gear.
Because of the importance of mouthguards and the need to prevent oral injuries, it's important that athletes actually wear their mouthguards. The strap attachment helps to quickly identify that an athlete is indeed wearing their mouthguard and makes it much more difficult for your players to "forget" or "lose" their mouthguards.
A Great Price
With six different styles to choose from, there is a perfect Gladiator waiting to lead you into battle starting at $45.
Con: Just because they're wearing it, doesn't mean they're wearing it properly
While the strap attachment shows your players are wearing their mouthguards, it doesn't mean they're wearing their mouthguards properly. And actually, in most cases, the strap attachment prevents them from doing so.
Because the strap attachment gives the mouthguard an anchor point, it provides the athlete with the opportunity to more easily "fish hook" their mouthguard and chew on it. Not only is this promoting improper usage of a mouthguard — as mouthguards should never be hooked in the corner of an athlete's mouth — but constant chewing also diminishes the protective qualities of the mouthguard.
Pro: Protection is always by your side
As mentioned before, mouthguards tend to get "lost" or "forgotten" frequently if your players don't like wearing them. One way of making sure that doesn't happen is by getting them the most comfortable — and protective — mouthguard available. The other is a mouthguard strap.
The strap attachment helps keep your players from losing their mouthguards because it is attached to their helmet and always by their side on the field, court or ice.
Con: A strap is a strap, not a handle
One of the biggest cons to using the strap attachment is that players use it as a handle for their helmet.
It's pretty common to see athletes carrying their helmets by a strap, but it's obviously not the intended use. Carrying helmets by the mouthguard strap attachment only leads to the strap or mouthguard breaking and compromising the protection it's supposed to provide.
The strap attachment also promotes the non-use of the mouthguard, as athletes know they are able to simply spit their mouthguards out whenever they want without having to worry about it dropping or being lost. That actually makes it less likely that your players are compliant and that's a dangerous situation, leaving your athletes susceptive to injury.
While the strap attachment makes it easier for your players to remember their mouthguards, there are some cons to using it. What do you think about the strap attachment?