Official Mouthguard of the Women's Professional Lacrosse League

The Women's Professional Lacrosse League (WPLL) recently kicked off its inaugural season, and we are proud to announce that Gladiator is the official mouthguard provider of the new league.
Made up of five teams — with clubs in Baltimore, New York (city and upstate), New England and Philadelphia – the WPLL is both a professional lacrosse league and a development program for the rising talent in the sport. It is the WPLL's mission to prioritize character development as a means for girls and women to excel in life on and off of the field. To that end, the league has partnered with experts in their respective fields to create a nationwide lacrosse development program that will focus as much on lacrosse as it will on character and leadership.
That mission makes WPLL a natural partner for Gladiator, and aligns the organization with another top lacrosse equipment provider. The WPLL also has equipment partnerships with Under Armor, Brine and Cascade.
For at least the next two years, every WPLL athlete is going to be protected by a Gladiator Pro, featuring their team logo and colors, as well as their individual jersey number.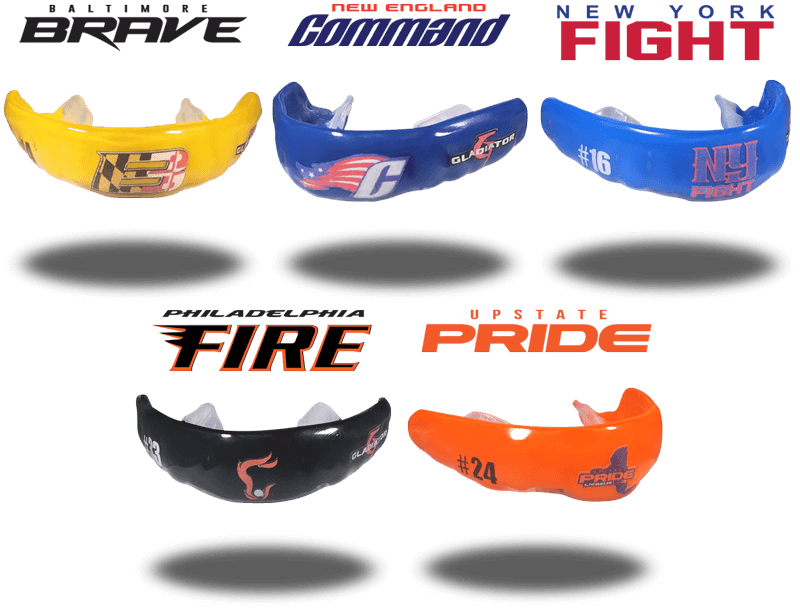 This shouldn't be a major change for the majority of the league's athletes, as many played their college career on a team providing Gladiator custom mouthguards. In fact, the recent 2018 NCAA Division I Women's Lacrosse championship featured two Gladiator teams in Boston College and James Madison University.
Gladiator is also excited to be a featured guest at the WPLL's Futures 3-Day Championship Summit — this July at West Chester University — where representatives will discuss oral protection and care with athletes, as well as parents of athletes.
From teaching the next generation of athletes how to be leaders through character development, to fostering a community around a sport we love, Gladiator and the Women's Professional Lacrosse League are a perfect match. Find out how our missions align and why we are thrilled to help protect the WPLL below.