New Year. New Mouthguard. New You. Kick Off 2021 With A Gladiator!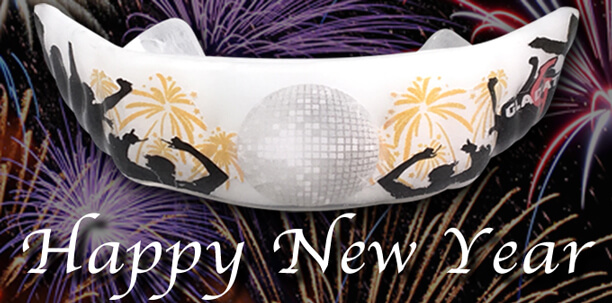 Welcome to 2021!
A new year always brings about change, and it's the perfect time to focus on you and your needs for the year ahead. You want to make sure you get off on the right foot and start the year in style.
If the previous year taught us anything, it's that you should always be prepared. That's why this is the year to make the change to a custom mouthguard.
Here are three reasons why you need to kick off 2021 with a Gladiator:
1. Start The Year Safely
Nobody wants to start a new year with new pain, so make sure you enter 2021 without risking injury.
Unlike broken bones, broken teeth do not heal. Just one broken tooth is a life-long injury, including routine maintenance, appointments and surgeries, costing approximately $20,000 over your lifetime.
Since athletes have a 33-56% chance of receiving an orofacial injury — an injury to the mouth or face — during their playing career, and with more than five million teeth knocked out during athletics each year, it's extremely important to protect your smile.
The Academy for Sports Dentistry states that custom mouthguards are 1000% more protective than any other type of mouthguard. In addition, the National Athletic Trainers' Association encourages athletes to wear "properly fitted mouthguards during sports activities," which they define as being fabricated over a stone model from an impression and featuring adequate thickness in all areas. Which speaks directly to comfort…
2. Make Yourself Comfortable
If one of your concerns about mouthguards is the level of comfort (or lack thereof), there's something you should know: not all mouthguards are created equally!
As stated above, custom mouthguards are made from an exact impression of your teeth made specifically to fit your exact and unique mouth structure. With a patented cut design, Gladiator custom mouthguards are thicker in the impact zones — the areas in front of the teeth and under the molars — providing more protection, while being thinner or having no material in areas where protection isn't needed — behind the back of the front teeth and the roof of the mouth.
That's why custom mouthguards are the most comfortable mouthguards available. And that custom cut design doesn't compromise breathing or speaking either.
3. The Year Of YOU
Gladiator doesn't just provide the most comfortable mouthguard — we are the only manufacture to offer specific mouthguard styles and upgrades based on your sport and individual preference.
If you want more protection, there's an upgrade for that! Looking for a thinner option? We have that too! Are you a heavy gagger? We've got you covered. With complete customization, your Gladiator custom mouthguard can be tailored to your exact needs.
And we didn't even mention the full array of personalization options — including logos, colors and more.
New Year, new mouthguard, new you! In 2021, the options are endless to get the custom mouthguard that's right for you and your needs. Find your perfect mouthguard at the link below.