Know Your Protection: How Do Mouthguards Actually Protect Athletes?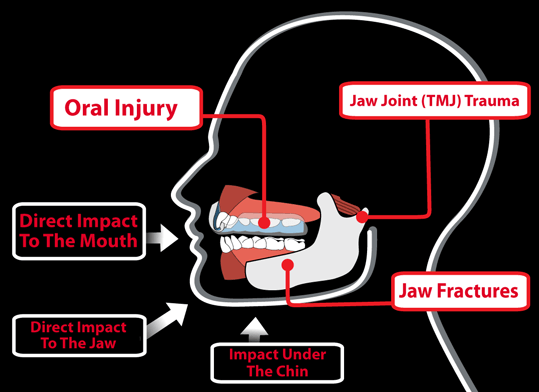 You already know that it's important for your players to wear their mouthguards, but do you know how exactly mouthguards protect your athletes?
It's actually pretty simple.
Mouthguards act as a shock absorber when impact is made to the mouth, jaw or chin — the three areas where orofacial injuries typically occur. What happens when there is no protection at the point of impact? Damage. And it's typically bloody.
Let's take a look at the three types of injury-causing facial impacts that athletes receive and the three types of injuries their mouthguard helps to protect them from:
3 Types Of Impacts
1. Direct Impact To The Mouth
This is exactly what it sounds like and the first type of impact most think of when it comes to orofacial impacts. Impact to the mouth can come in the form of a stick, puck, ball, hand or elbow. When the mouth is hit, it causes damage to the lips, cheeks, gums and teeth.
2. Direct Impact To The Jaw
This impact typically comes from the side, impacting the jaw directly. Impact directly to the jaw has the ability to cause damage to the jawbones, teeth and jaw joint (TMJ).
3. Impact Under The Chin
Many will refer to this as "being hit on the button." Typically this impact is from a shoulder, hand or elbow coming from below on an upward angle. When impact is made under the chin, the force slams the lower jaw into the upper jaw causing damage to the jawbones, teeth and jaw joint (TMJ).
3 Types Of Protection
1. Oral Injury
A mouthguard that fits the exact structure of an athlete's mouth is able to protect the soft tissues and teeth when impact occurs. The mouthguard absorbs the impact and disburses it to the rest of the mouth, while also softening the sharp edges of the teeth minimizing or eliminating damage.
2. Jaw Joint (TMJ) Trauma
A proper mouthguard, when worn correctly, protects against trauma — fractures and displacement — to the jaw joint. It does so by cushioning and reducing the amount of shock to the jaw joint as the upper and lower jaw collide.
3. Jaw Fractures
Similarly, mouthguards protect the jaw from fractures by reducing shock upon impact.
In order to provide the proper protection though, a mouthguard must be fit properly. That means it must fit intimately against the upper teeth, without the need for biting or clenching. And that means it's comfortable and stays in place during all activities.
Especially when it's needed most.
You know that your athletes need mouthguards to help keep them protected, but do you know how mouthguards actually protect them? When you know, your players stay safe.