From ACL Tears To Broken Jaws: Why Injury Recovery Varies For Athletes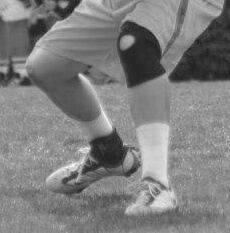 Even now — with more than a full season come and gone in between — it still seems mind-blowing for Adrian Peterson to come back from one of sports' most devastating injuries in such a quick time frame. For him to come back from that injury and put together one of the all-time greatest rushing seasons an NFL running back has ever had is remarkable.
It wasn't all that long ago that an ACL tear was an extremely tough injury to recover from. Even as late as the early 2000s, a torn ACL was viewed as a career-threatening, or at least, career-altering injury. With major advances in medicine and sports technology, players are able to come back at near-full strength from major knee injuries. And in the case of Adrian Peterson, they sometimes come back even better.
But Peterson, of course, is the exception to the rule. For every Adrian Peterson, there are hundreds of athletes who struggle on the field, court or ice when they return too quickly from injury. And ever since his remarkable — and high-profile — recovery, it seems like some athletes expect similar results in their own injury rehab; pushing themselves to return well before their bodies are ready.
The most recent and most widely covered example is Washington Redskins quarterback, Robert Griffin III. Griffin injured his knee at the end of his fantastic 2012 rookie season, requiring reconstructive surgery. He returned in time to take the first snap of the 2013 season, but his year didn't nearly live up to the lofty expectations he set for himself and his team.
Did he come back too early? Should he have begun this past season on injured reserve, allowing his knee more time to properly heal and recover? Griffin certainly showed a lot of rust at the beginning of the season and didn't really look like himself.
It's a very tricky subject and the answer may really depend on a case-by-case basis. Adrian Peterson is a (maybe literal) freak of nature. His injury wasn't much different from Chicago Bulls star guard Derrick Rose, who (originally) tore his ACL in May 2012. Rose took more than an entire year off from basketball to recover — even taking flak from local and national media about his extended rehab time.
When it comes down to it, injury recovery is just as much mental as it is physical. Derrick Rose's knee was structurally fine midway through last season, but he clearly didn't have the confidence in his knee that he needed to be able to drive, shoot, jump and dribble.
Peterson even contacted Rose at the time, saying: "The one piece of advice I can give him is have your mind set on what you want to accomplish and know, after four months that ligament is stable and strong, so don't back down from anything." Peterson said, "I know around that time, my leg was still a little sore, too, but the ligament was strong, almost stronger than the right side."
While Peterson had immediate confidence in his knee, it took Rose much longer to be assured. Both players are universally viewed as physically and mentally tough athletes. What was different about their injury recovery?
Well, there are certainly many factors that go into injury recovery. First of all — much like the unique structure of each player's individual mouth — everyone's body is different. That means no two athletes heal identically, even if they suffer from the same injury. One player's ACL tear isn't necessarily the same as the other, especially depending on how the injury occurred: Adrian Peterson's knee was turned inside out by the helmet of a defender; Derrick Rose's knee tore on a non-contact play, when he pushed off his leg to go up for a shot.
There have also been major advances in recent years in sports medicine and rehabilitation, as well as athletic equipment, which help to speed up the injury recovery process. Of course, in this day and age, it's hard not to immediately think that players who are back quicker than others are using extra, illicit help. While there's always going to be athletes looking to gain an edge, that shouldn't cloud our judgments about all athletes returning from injury.
When it comes down to it, a player's work ethic and body are the two biggest factors in injury recovery. As an athlete, you must know the limitations of your body, as well as what your body is capable of. And as a coach or athletic trainer, it's important to give your players the equipment they need to help limit the severity of injuries.
After all, we can't all be Adrian Peterson.
Help limit the severity of injuries with custom mouthguards from Gladiator, the industry-leader in custom mouthguards.