ECAC Hockey Best Defensive Forward Award Presented By Gladiator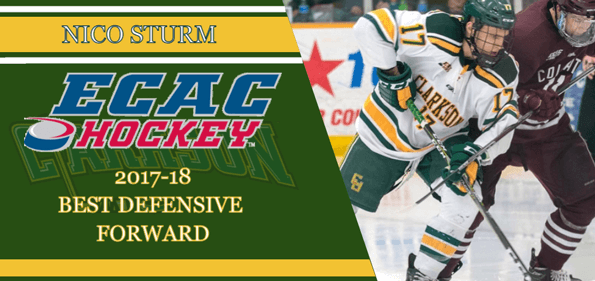 Annually selected by the league's 12 head coaches at the conclusion of the regular season, the Gladiator Custom Mouthguards Best Defensive Forward Award has been announced by ECAC Hockey for the 2017-2018 season!
This year's winner, Nico Sturm, helped the Golden Knights remain a top-10 team for most of the season. The sophomore from Augsburg, Germany is the top player in the country at the face-off circle, winning 61.7% of his draws this season. Nico finished second for Clarkson in scoring, while collecting 22 blocks and posting a plus-minus of +17. All while helping the Golden Knights finish with the second-rated defense in the nation, allowing only 1.91 goals per game.
Gladiator congratulates Nico and all of the student-athletes winning awards this year and is proud to be associated with ECAC Hockey and their student-athletes.
Gladiator has been a proud sponsor of ECAC Hockey since 2010 and annually presents the Best Defensive Forward Award.
A full press release can be found here.