Custom Mouthguard: Make A New Year's Resolution That You Can Actually Keep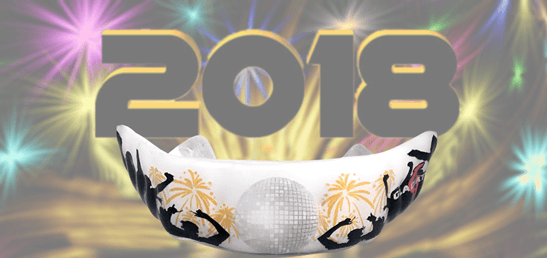 It's a new year, and that's means one thing: New Year's resolutions!
While most people choose to make ambitious life changes that they're unlikely to keep for the new year, why not shoot for something a little more obtainable — like a new mouthguard!
After all, both the American Dental Association and the Academy for Sports Dentistry recommend a professionally made, properly fitted custom mouthguard for all contact and collision sports. And there's no better time to try something new like a new year.
Here are three reasons why you should make a custom mouthguard your New Year's resolution:
1. Annual Checkup
Like all athletic equipment, mouthguards take some wear and tear over the course of a long season. And because the mouth is an especially harsh environment, your mouthguard may take even more of a beating than things like shoulder pads or your helmet.
Should you replace it each year like some of your other gear? That varies based on usage and how you take care of it. A mouthguard that isn't cleaned, stored or maintained properly is going to wear out quickly.
With proper care, your custom mouthguard's longevity could last as long as three years! However, due to general breakdown from usage, a good rule of thumb is to replace your mouthguard each year. Start the year off knowing that you have optimal protection and effectiveness, as well as a sanitary mouth.
2. New Year, New Logo
Trying to change up your appearance, vibe or style for the new year? A new custom mouthguard is exactly what you need to help accentuate your new look.
Show off the team colors and logo. Flash that new nickname or jersey number. Subvert everyone's expectations with a plain clear mouthguard.
With complete customization, you have the ability to display your identity through your mouthguard, with totally personalized colors, design, name, etc.
3. A Better You Means Better Protection
New Year's resolutions are all about bettering yourself — from your health to your finances. What better way to better both than by getting the best protection!
The Academy for Sports Dentistry states that custom mouthguards are 1000% more protective than any other type of mouthguard. In addition, the National Athletic Trainers' Association recently released a new position statement on dental injuries, including recommendations for both mouthguard effectiveness and care. They encourage athletes to wear "properly fitted mouthguards during sports activities," which they define as being fabricated over a stone model from an impression and featuring adequate thickness in all areas.
Why is it important that a custom mouthguard stays securely on your upper teeth without clenching or biting? Because unlike a broken bone, broken teeth do not heal. One broken tooth is a life-long injury, including routine maintenance, appointments and surgeries, costing approximately $20,000 over your lifetime.
Better protection in 2018 means better health and finances for years to come!
New Year's resolutions are hard to keep, but they don't have to be. Whether you want more protection, complete personalization or a fresh start, custom mouthguards make it easy to better yourself this year. What other ways do you resolve to use your mouthguard? Let us know in the comments.