Chews To Lose: Why Do Athletes Complain About Their Mouthguards?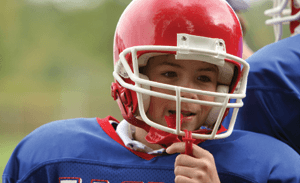 As a coach, athletic trainer or parent, there are two very common complaints you hear frequently when it comes to your players' mouthguards: "my mouthguard is chewed up" or "my mouthguard is lost."
Athletes chew up or lose their mouthguards almost as much as they actually wear them. These are by far the two most common problems associated with mouthguards. But why is that the case? Why do your athletes keep chewing up their mouthguards or just flat out losing them? Is there a way for you to help your athletes and stop yourself from purchasing mouthguard after mouthguard?
Well, let's start at the heart of the problem. Simply put, your athletes are chewing and losing their mouthguards because of the way they fit. Or, to be more accurate, the way they don't fit.
Both issues — chewing and losing — are easily attributed to functions of a mouthguard that doesn't fit properly. When a mouthguard doesn't have a tight fit to the upper teeth, it floats around in the mouth; similarly, when a mouthguard has too much material, it is extra bulky in spots that require more comfort. In both of those cases, the mouthguard is uncomfortable and players will instinctually chew on it, not leaving it recognizable for long.
Have you ever had an annoying tag in the back of your t-shirt? It's pretty distracting when you constantly need to readjust your collar. Well your players are equally distracted by that clunky, ill-fitting mouthguard; constantly needing to take it out or readjust it, rather than focusing on the task at hand. And that distraction is detrimental to the team.
Players need to be focused and in the moment. If they are fidgeting with their mouthguards, or even forgoing wearing them all together by "losing" them in their lockers, they may be in danger of being out of position, or worse, vulnerable to injuries. And players are much more susceptible to injuries when they wear improper equipment.
Mouthguards only provide the optimal protection when they are optimized to fit each player's individual mouth structure. The tighter the fit, the less likely the mouthguard floats around in the mouth, the more likely it's where it needs to be when a player takes contact to the face, jaw or teeth. And, if the mouthguard fits properly and tightly to the upper teeth, there's no way for the athlete to chew on it or for it to fall out on its own.
In addition to fit, the material also makes the mouthguard. One of the main reasons your players are constantly losing or chewing through their mouthguards is that those mouthguards were designed in the 1960s and have not changed in the fifty years since. Generic boil-and-bite mouthguards are basically big chunks of rubber that are boiled until they are soft and bitten into in order to mold to a player's teeth. That technology — while still widely used — is wildly outdated.
Welcome to the 21st century, where mouthguards are made of a much denser material than their predecessors. Using a heat and pressure-laminated design to perfectly fit each athlete's individual mouth structure, mouthguards are now custom-made to be thinner where comfort is important and thicker where protection is needed. That means your player's mouthguard is more resistant to being chewed and not so soft that it looks like a dog's chew toy after only one game.
Not only do custom mouthguards fit your players better and offer them more protection, but unlike boil-and-bites, custom guards also give players the ability to breath and speak with no limitations. And, with a completely personalized mouthguard — from team color and logo to player's name and number — your athletes won't just get a performance enhancing piece of equipment, but a new piece of team gear they value as much as their jersey or lucky undershirt.
When they're at their locker preparing for game time, after they pull their jersey over their pads and apply eye black, the last piece of equipment they put on is their custom mouthguard, completing their game face. That's not something players easily lose.
Chew on that!
Put an end to chewing and losing: get your players the proper protection they need with Gladiator Custom Mouthguards, the industry-leader in custom mouthguards.