Athletic Equipment: Making The Most Out Of Your Mouthguards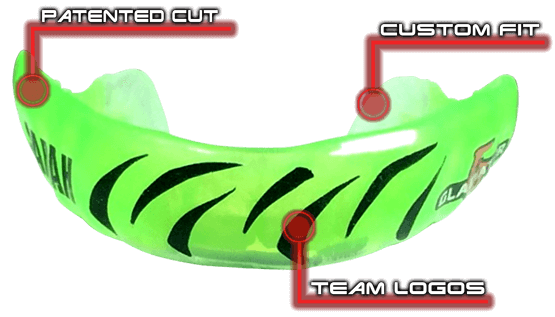 how important they are for keeping your players safe.
It's no mystery that mouthguards are not your athlete's favorite piece of athletic equipment. But, you also know just
How do you help your team comply with wearing their mouthguards and make sure they are staying on the field, court or ice? Simple! Provide your players with comfortable custom mouthguards that they'll value as much as their jersey.
Lets take a quick look at how you and your team should make the most of your mouthguards:
1. Be Personal
In 2016, we live in a world of infinite options, choices and customization for nearly everything that you own.
And that's certainly the case when it comes to mouthguards — particularly custom mouthguards that are unique and feature personalized logos, colors and text.
When your players value a piece of team gear — like they do their jerseys and warm-ups — they not only wear it, but take pride in it. Jerseys, helmets and sneakers are rarely left behind on the field; but you've likely found a number of chewed up pieces of rubber littered about after games. That's because athletes simply don't place any value on generic boil-and-bite mouthguards.
With a completely personalized mouthguard — from color and logo to name and number — your athletes don't just get another piece of equipment, but a new item of team gear they value as much as their jersey.
2. Be Comfortable
Have you ever had a tag in the back of your t-shirt that irritated you? Things that are uncomfortable like that are traditionally distracting.
When your players' mouthguards don't fit correctly because they are too bulky or have too much material in the areas that don't require it, they are uncomfortable to wear. That also means they're not providing the proper protection.
Everyone's mouth is different, so it's important to be sure that your mouthguard has a tight enough fit to firmly stay on your upper teeth without being held in place with the lower jaw. That means no biting or clenching!
When a mouthguard fits snuggly, it stays in place during any impact and won't become dislodged. It should never be able to come loose and float around your mouth. You should only be able to remove your mouthguard by pulling it out with your fingers to ensure that your mouthguard is right where it needs to be when impact occurs.
And that cuts down on distractions.
3. Be Accommodating
Not every mouth is created equally … neither are every players' needs.
Some may need extra protection behind their molars, while others need a more durable material for their chewing habits. One player may want a super thin mouthguard, while athletes with braces are going to need special accommodations to be comfortable.
Basically, you need to be flexible.
And it certainly helps when you have a true partner that always has your back. Take care of your needs and your players, without feeling burdened by the ordering process.
When it comes to athletic equipment, you need to make the most out of your mouthguards for the sake of your players' safety, comfort and identity.