Athletic Equipment: 3 Tips To Choosing The Right Mouthguard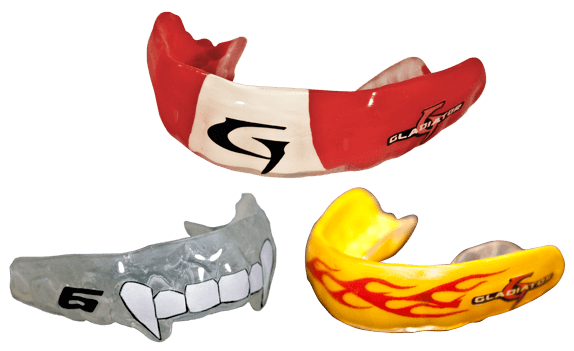 How do you choose the right mouthguard for your players?
When it comes to finding the perfect mouthguard, there are multiple factors to consider — from sport and age to individual need and desire — and there are a lot of options to choose from. It's easy to become overwhelmed quickly, and that's the last thing you want when purchasing athletic equipment for an entire team.
So, how do you choose the right mouthguard for your players? Here is your simple three-step guide to purchase the perfect mouthguard:
1. The Right Mouthguard Has The Right Protection
It's not just a clever name: mouthguards guard mouths. But are your players properly protected?
Proper protection starts with a minimum of 4 mm of material in the important impact zones — the areas in the front of the teeth and under the molars — and means there isn't bulky material where protection isn't needed. However, these zones change from sport to sport.
It's important that your athletes have the proper level of protection for their specific sport or they could be at risk of injury, as well as general discomfort on the field, court or ice, which may be very distracting.
A Great Price
With six different styles to choose from, there is a perfect Gladiator waiting to lead you into battle starting at $45.
For contact sports like football and ice hockey, frontal impact is guarded by the facemask or shield, so your players' mouthguards may have a thinner frontal profile, but feature more protection under the molars. Along with the correct protection, that also allows for more comfort and better breathing and communication, which is highly important in team sports.
Sports like field hockey or girls' lacrosse, where there is a possibility of direct impact to the face, require more protection in the front zone to absorb the impact from the stick or ball.
2. The Right Mouthguard Has The Right Fit
In order for your players to get the most protection and comfort out of their mouthguards, they simply need to be worn properly. And that all starts with the fit.
Everyone's mouth is different, so it's important to be sure that they're getting a mouthguard that's been designed taking into account the exact individual structure of their mouths. Their guards must have a tight enough fit to firmly stay on their upper teeth without being held in place with the lower jaw. That means no biting or clenching!
When a mouthguard fits snuggly it stays in place during any impact and won't become dislodged. It should never be able to come loose and float around the mouth. Players should only be able to remove their mouthguards by pulling them out with their fingers.
3. The Right Mouthguard Has The Right Accessories
Today's mouthguards are wildly different than the mouthguards of the past — thankfully! Gone are the days of boiling-and-biting a big chunk of rubber, as mouthguards are now produced using state-of-the-art materials and feature different options to personalize the guard that's right for each individual player.
That means your players are getting higher performance mouthguards and guards that are much more durable — which is particularly important for mouthguard chewers. And mouthguards now feature performance upgrades, like technology that locks the lower jaw in a slightly forward position, giving the athlete 17% gains in extremity strength with less stress on the temporomandibular joint. According to Kinesiology studies, this helps make the athlete's body more relaxed for greater range of motion, flexibility and balance — meaning athletic performance is actually enhanced by a mouthguard.
And let's not forget complete personalization! From color and logo to name and number, your players don't just get a piece of athletic equipment, but a new favorite piece of team gear that becomes an essential component to completing their game face!
With the right protection, the right fit and the right accessories, it's not hard to choose the mouthguard that's right for your players.