Announcing The 2017 Gladiator Custom Mouthguards All-Rookie Team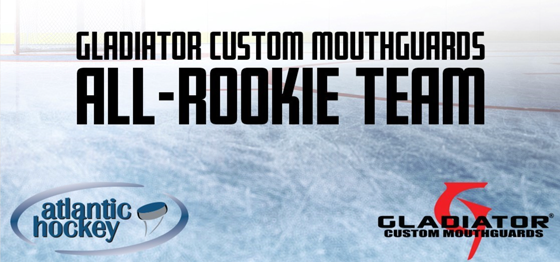 Atlantic Hockey has announced the Gladiator Custom Mouthguards All-Rookie Team for the 2016-2017 season. This year's team is made up of six players from five teams in the league.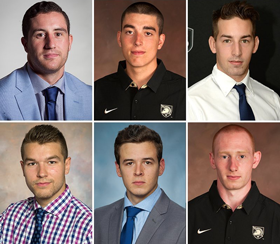 The three forwards making up the All-Rookie squad this year include Canisius' Nick Hutchison, Army West Point's Dominic Franco and Bentley's Ryner Gorowsky. Hutchison tied for the league lead in rookie scoring, while Franco was second in scoring for Army this year and Gorowsky was the best freshman scorer on a per game basis after a bout with mono kept him out of the lineup for the start of the season.
Two defensemen joining the team include RIT's Adam Brubacher and Army West Point's Alex Wilkinson. Brubacher was the top-scoring rookie defenseman and tied for second in the league amongst all defensemen for points. Wilkinson found his share of points finishing third amongst rookie defensemen in points per game.
Rounding out the All-Rookie Team is Robert Morris' goaltender Francis Marotte. Marotte finished fourth in goals against average and third in save percentage amongst all league goalies.
Gladiator congratulates all of the student-athletes selected to this year's All-Rookie Team and is proud to be associated with Atlantic Hockey and all of their student-athletes.
The full press release can be found here.