4 Reasons Why You Should Get A Gladiator, From The Pros That Wear Them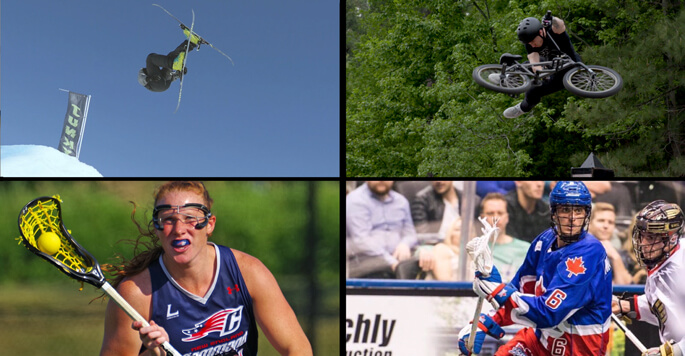 Often in this space, we explain the benefits of custom mouthguards and why you should always play with a Gladiator.
So instead of hearing from us, take it from our fans! Here are real five-star reviews from some of the professional and top amateur athletes that choose Gladiator for their custom mouthguard needs:
1. Custom Fit
"Growing up, I always had my mouthguard halfway in my mouth because none were ever comfortable. Now with my Gladiator and its sleek design, I don't have to worry about that. The comfort is unreal and like nothing else." – Kieran McArdle, NLL and PLL Lacrosse All-Star ★★★★★
Gladiators are custom fit to your mouth, so they stay in place without biting or clenching
A custom fit requires an exact impression or scan of the mouth, which is used to create a model of the mouth and form the guard over the teeth using heat and pressure
That means no more distractions from a loose or poor-fitting mouthguard
With Gladiator's Compliance Guarantee™, you won't just get the most protective mouthguard possible, but the most comfortable as well
If for any reason a Gladiator doesn't fit perfectly when it's first received, it is fixed or replaced at no extra cost, guaranteed!
2. Individually Designed
"It's the first mouthguard I've used that actually allows you to speak and communicate effectively with your teammates on the field." – Sarah Lloyd, WPLL New England Command Midfielder ★★★★★
Patented, hand-cut design for minimal material and obstructions
Allows for optimal protection, while clearing the free way space in the mouth for breathing and clear communication
Each Gladiator is custom engineered to be the appropriate thickness for each athlete's individual mouth, providing protection where it's needed and comfort everywhere else
3. Complete Personalization
"The customized design options allow me to be creative and original!" – Charlie Beatty, Freestyle Skier ★★★★★
Each Gladiator can be personalized with different colors, logos or other designs
The side ID is free and included with each Gladiator
Gladiators come in any color combination
4. Ultimate Protection
"Protection and prevention are everything to me. Gladiator makes that easy for me and gives me peace of mind when I am riding, knowing my teeth and brain are protected." – Josh Perry, Pro BMX Bicycle Athlete ★★★★★
Are you still unsure about getting a Gladiator custom mouthguard? Don't take it from us; take it from the professional athletes who trust our comfort and protection. What other athletes use Gladiator for their protection? Find out at the link below…