4 Reasons To Declare Your Independence From Outdated Mouthguards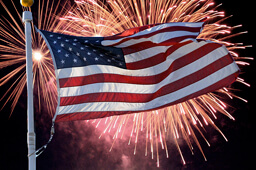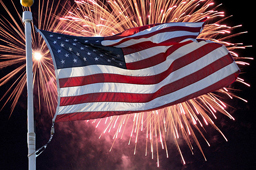 Happy Independence Day!
As you're relaxing with your family at your neighbor's barbeque and watching fireworks explode in the sky, take a moment to reflect on what makes independence so important.
There are reasons large and small to desire liberty. More than two centuries ago, our forefathers were fighting the old guard for their freedom against oppression. For the last half-century, athletes have been fighting outdated equipment for their freedom against mouthguard oppression. Times sure do change!
For more than fifty years, athletes have been led to believe that the standard boil-and-bite mouthguard is the only mouthguard they need. But, much like monarchies, boil-and-bite mouthguards are an inferior thing of the past.
In honor of July 4th, here are four reasons why you need to declare your independence from outdated boil-and-bite mouthguards:
1. The Liberty To Be Protected
Everyone's mouth is different. Yet, boil-and-bite mouthguards are made to fit any mouth. That means your players' guards are thick where they shouldn't be, inhibiting their ability to breathe and communicate correctly.
It also means they don't have the proper protection where they need it.
Both the American Dental Association and the Academy for Sports Dentistry (ASD) recommend a professionally-made, properly-fitted custom mouthguard for all contact and collision sports. According to the ASD, custom mouthguards that are individually engineered to fit an athlete's exact mouth structure are 1000% more protective than any other type of mouthguard.
The intimate fit of a custom mouthguard means your players are getting protection precisely where they need it. And custom mouthguards aren't just more effective than boil-and-bites; they are the most comfortable as well…
2. The Freedom Of Comfort
While custom mouthguards are designed for ideal comfort, the same certainly can't be said about generic boil-and-bite mouthguards. Again, the bulkiness of a generically made rubbery mouthguard does very little to offer comfort where comfort is needed.
Athletes are incapable of breathing freely, speaking clearly or drinking water with a boil-and-bite mouthguard taking up all the space needed for such basic functions of the mouth. That means they constantly need to remove their mouthguards for simple tasks.
Custom mouthguards aren't just designed for the best protection, but for breathing, speaking and drinking from a water bottle with no hindrance or discomfort. They even comfortably fit players with braces!
3. The Justice Of Value
Aside from being much less comfortable and effective, there's a reason boil-and-bite guards are so inexpensive: they're chunks of rubber that are chewed through and turned unrecognizable almost instantly. Players leave them on the field, in their lockers or simply choose to not use them at all, because they look disgusting and make it hard to breathe and speak.
At the end of the season, are you really only spending $5 per player on mouthguards, or are you finding that each athlete needs multiple boil-and-bites as the year progresses?
Because custom mouthguards are designed to match the exact structure of each player's individual mouth, they outlast boil-and-bite guards 5-to-1. But players still actually have to wear them and stop "leaving" them in their lockers…
4. The Choice To Be Independent
When a piece of sports equipment is generic and ugly — like a mangled piece of rubber — players tend to take a negative approach to that piece of gear. So how do you add value to a piece of their athletic equipment? Make it their own!
With a completely personalized mouthguard — from team color and logo to player's name and number — your athletes won't just get a performance enhancing piece of equipment, but a new piece of team gear they value as much as their jersey or lucky undershirt. And when they're at their locker preparing for game time, after they pull their jersey over their pads and apply eye black, the last piece of equipment they put on is their custom mouthguard; completing their game face.
Talk about declaring your independence!
Freedom from boil-and-bite mouthguards comes directly from the birthplace of independence: Gladiator Custom Mouthguards, the industry-leader in custom mouthguards, proudly designed and produced in Philadelphia, PA.